La cámara de obsidiana / The Obsidian Chamber (Inspector Pendergast / Agent Pendergast Series #16) (Paperback)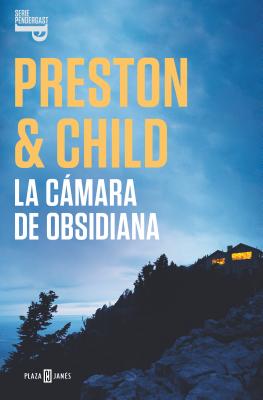 Email or call for price
Special Order - Subject to Availability
Description
---
Pendergast resuelve los casos como nadie, pero en esta ocasión tal vez ni siquiera él pueda ayudarnos...
Una trágica desaparición.
Tras un horrible enfrentamiento en las costas de Exmouth, Massachusetts, el agente especial Pendergast desaparece sin dejar rastro y los rumores de su muerte no tardan en extenderse.
Un sorprendente retorno
Destrozada, Constance busca refugio en los antiguos aposentos de la mansión familiar, el número 891 de Riverside Drive, donde una oscura figura del pasado aguarda para capturarla.
Una persecución internacional
Proctor, el guardaespaldas de Pendergast, se pone en marcha sin dilación siguiendo la pista al secuestrador de Constance a través de océanos y continentes, adentrándose en territorios desconocidos y hostiles con tal de salvarla.
Pero en un mundo en el que todo es blanco o negro nada es lo que parece.
Para cuando Proctor descubre la verdad se ha puesto en marcha una maquinaria aterradora. Pero puede que sea demasiado tarde...

ENGLISH DESCRIPTION
After a harrowing, otherworldly confrontation on the shores of Exmouth, Massachussetts, Special Agent A.X.L. Pendergast is missing, presumed dead.
Sick with grief, Pendergast's ward, Constance, retreats to her chambers beneath the family mansion at 891 Riverside Drive-only to be taken captive by a shadowy figure from the past. Proctor, Pendergast's long-time bodyguard, springs to action, pursuing Constance's kidnapper through cities, across oceans, and into wastelands unknown. But in this world, nothing is as it seems and by the time Proctor discovers the truth, a terrifying mechanism has stirred - and it may already be too late...
About the Author
---
Douglas Preston
(Cambridge, Massachusetts, 1956) trabajó como escritor y editor para el Museo Americano de Historia Natural y dio clases de escritura en la Universidad de Princeton. Ha colaborado con 
The New Yorker
, 
Natural History
, 
National Geographic
, 
Harper's
, 
Smithsonian
 y 
The Atlantic
. Es autor de varios aclamados libros de no ficción, entre los que destaca 
El monstruo de Florencia
, y también, como coautor con Lincoln Child, de la exitosa serie de novelas del agente Pendergast, del FBI.
Lincoln Child
 nació en Westport, Connecticut, y se graduó en Northfield, Minnesota. Tras trabajar unos años como editor de novelas, empezó a compaginar su trabajo con la escritura, su verdadera pasión, hasta que finalmente decidió dedicarse a escribir en exclusiva.
Ha escrito una serie de novelas de gran éxito junto a Douglas Preston, con quien forma un compenetrado tándem (La ciudad sagrada, Los asesinatos de Manhattan, Naturaleza muerta, La mano del diablo, todas ellas publicadas por Plaza & Janés). Actualmente vive en Nueva Jersey con su esposa y su hija.
Praise For…
---
La crítica ha dicho...
«Preston y Child traspasan con este título las fronteras de la novela de acción y aventura.».-Kirkus Reviews
«Hay pocos como Preston y Child a la hora de crear auténticas escenas de suspense.».-Publishers Weekly
«Una historia inteligente, emocionante y absorbente de Preston y Child. El estilo impecable que los seguidores esperan de esta pareja de autores sigue presente en una lectura con trasfondo histórico que te atrapa.».-Associated Press
«Lo que los lectores de esta famosa pareja esperan es intriga, emoción y una historia inolvidable. Esta nueva entrega es otra creación perfectamente escrita de Preston y Child.».-Suspense Magazine