Hidden Salem (Bishop/Special Crimes Unit #19) (Hardcover)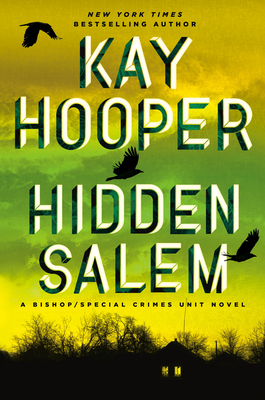 $31.59
Please contact us for more details
Other Books in Series
This is book number 19 in the Bishop/Special Crimes Unit series.
Staff Reviews
---
I am going to admit I am not up to date with Kay's Special Crime Unit series. I was unsure I'd be able to jump back in without being lost. Good News! It can be read and enjoyed as an individual paranormal crime mystery.
A SCU team is sent to a small, isolated town that has evil surrounding it. They must stop that evil before more people are kidnapped or killed. The clock is ticking for everyone.
A good, suspenseful escape read!
— Alicia D - Katy Budget Books
Description
---
A town shrouded in the occult. An evil that lurks in the dark. The SCU returns in a hair-raising novel from New York Times bestselling author Kay Hooper.

Nellie Cavendish has very good reasons to seek out her roots, and not only because she has no memory of her mother and hardly knew the father who left her upbringing to paid caregivers. In the eight years since her twenty-first birthday, very odd things have begun to happen. Crows gather near her wherever she goes, electronics short out when she touches them, and when she's upset, really upset, it storms. At first, she chalked up the unusual happenings to coincidence, but that explanation doesn't begin to cover the vivid nightmares that torment her. She can no longer pretend to ignore them. She has to find out the truth. And the only starting point she has is a mysterious letter from her father delivered ten years after his death, insisting she go to a town called Salem and risk her life to stop some unnamed evil. Before her thirtieth birthday.

As a longtime member of the FBI's Special Crimes Unit, Grayson Sheridan has learned not to be surprised by the unusual and the macabre--but Salem is different. Evidence of Satanic activities and the disappearance of three strangers to the town are what brought Salem to the attention of the SCU, and when Gray arrives to find his undercover partner vanished, he knows that whatever's hiding in the seemingly peaceful little town is deadly.  But what actually hides in the shadows and secrets of Salem is unlike anything the agents have ever encountered.
About the Author
---
Kay Hooper is the award-winning, New York Times bestselling author of the Bishop/Special Crimes Unit series and the Bishop Files series.
Praise For…
---
"A dark thriller that plunges readers into the disturbing side of the paranormal."—Fresh Fiction, on Haunted
 
"Filled with page-turning suspense."—The Sunday Oklahoman, on Zach's Law
 
"A stirring and evocative thriller."—Palo Alto Daily News, on Haunting Rachel
 
"When it comes to delivering the creepy and supernatural, Hooper is on a roll."—RT Book Reviews, on The First Prophet (Bishop Files Series #1)
 
"Kay Hooper has given you a darn good ride, and there are far too few of those these days."—Dayton Daily News, on Once a Thief
 
"It passed the 'stay up late to finish it in one night' test."—The Denver Post, on Haunting Rachel