Adequate Yearly Progress: A Novel (Paperback)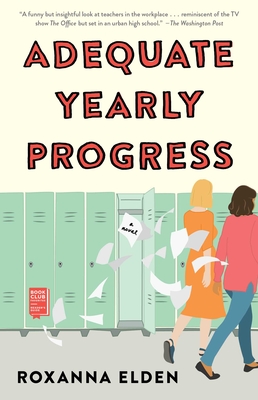 $19.88
Please contact us for more details
Description
---
A debut novel told with humor, intelligence, and heart, a "funny but insightful look at teachers in the workplace…reminiscent of the TV show The Office but set in an urban high school" (The Washington Post), perfect for fans of Tom Perrotta and Laurie Gelman.

Roxanna Elden's "laugh-out-loud funny satire" (Forbes) is a brilliantly entertaining and moving look at our education system.

Each new school year brings familiar challenges to Brae Hill Valley, a struggling high school in one the biggest cities in Texas. But the teachers also face plenty of personal challenges and this year, they may finally spill over into the classroom.

English teacher Lena Wright, a spoken-word poet, can never seem to truly connect with her students. Hernan D. Hernandez is confident in front of his biology classes, but tongue-tied around the woman he most wants to impress. Down the hall, math teacher Maybelline Galang focuses on the numbers as she struggles to parent her daughter, while Coach Ray hustles his troubled football team toward another winning season. Recording it all is idealistic second-year history teacher Kaytee Mahoney, whose anonymous blog gains new readers by the day as it drifts ever further from her in-class reality. And this year, a new superintendent is determined to leave his own mark on the school—even if that means shutting the whole place down.
About the Author
---
Roxanna Elden is the author of Adequate Yearly Progress: A Novel, and See Me After Class: Advice for Teachers by Teachers. She combines eleven years of experience as a public school teacher with a decade of speaking to audiences around the country about education issues. She has been featured on NPR as well as in The New York Times, The Washington Post, The Atlantic, and more. You can learn more about her work at RoxannaElden.com.
Praise For…
---
"A funny but insightful look at teachers in the workplace . . . reminiscent of the TV show "The Office" but set in an urban high school."
— The Washington Post

"[S]harp and hilariously observed."

— New York Post

"Roxanna Elden is one of the most practical, engaging and entertaining writers on education issues around."
— Larry Ferlazzo

"An entertaining and humane story of what it's like to teach high school. Already a hit with teachers when it was self-published in 2018, it will appeal to anyone who enjoys humorous workplace narratives."
— Library Journal

"In Adequate Yearly Progress, Roxanna Elden has written a smart, charming novel about the flaws and promises of our education system. I fell in love with Lena, Hernan, Maybelle, and their fellow teachers -- none of whom are perfect, and each of whom are doing their best (with admittedly mixed results). A laugh-out-loud funny and genuinely heartwarming novel."
— Anna Pitoniak, author of Necessary People and The Futures

"Laugh-out-loud-funny satire."
— Forbes

"Smart and funny. . . .a gem."
— Steve Almond, author of Bad Stories

"Compelling characters and irresistable plot threads. . . . To read Adequate Yearly Progress is to bathe in a world of humanity that won't be soon forgotten."
— Jacinda Townsend, author of Saint Monkey

"A brilliant portrayal of our public education institutions. . . . Roxanna Elden's spot-on observations, penetrating humor, and deeply felt characters make for an immersive story that is as fun to read as it is enlightening."
— Natalia Sylvester, author of Everyone Knows You Go Home

"[A] humorous novel about modern public education... a welcome contribution to a field that lacks recognizable, complex portrayals of today's teacher... as entertainment and a tribute to dedicated educators, the novel is entirely adequate."
— Las Cruces Sun-News

"Provides readers an honest, panoramic view into the challenges modern educators face in districts across America."

— Great Falls Tribune

"Adequate Yearly Progress is laugh-out funny in parts (the comments on KayTee's blog are especially hilarious), somber in other parts, and you don't have to be a teacher to enjoy this clever workplace book (but if you are, you will enjoy it on another level)."
— The Citizen (Auburn, NY)