More Veggies Please!: Easy Kid-Approved Meals and Family-Friendly Comfort Foods with Surprising Veggie Twists (Paperback)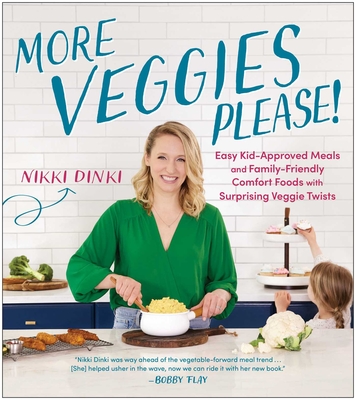 $24.95
Please contact us for more details
Description
---
NATIONAL INDIE EXCELLENCE AWARDS FINALIST — COOKBOOKS: GENERAL

Looking for ways to get your kids to eat more veggies?

Packed with creative recipes, this modern approach to classic family comfort foods ups the nutritional ante—infusing TONS of healthful vegetables into every dish (even snacks and desserts!)—while always putting flavor first.
As a chef and cookbook author, Nikki Dinki
loves
veggies. But like most parents, getting her kids to love them is a work in progress. There will always be a side of veggies on their dinner plates, but when those veggies go untouched, Nikki doesn't stress. That's because her cooking incorporates vegetables at every turn: the kids may not have eaten their sides of peas, but they ate cauliflower and sweet potatoes in their Mac and Cheese, devoured Green Eggs (with spinach) and White Bean Pancakes for breakfast, and asked for seconds of the Zucchini Crust Pizzas at lunch!
Although the veggies are sometimes hidden—your kids will be eating mushrooms and eggplant without thinking twice!—the real goal is using the qualities of each vegetable to make each classic, family meals even
better
than the original version. In these recipes, mushrooms enhance the beefy taste of the Mushroom and Onion Burgers, while eggplant replaces egg for breading on Chicken Tenders and Chicken Parmesan, which keeps them irresistibly moist.
Inside, discover other delicious recipes that will become mealtime staples, including:
Chicken Pot Pie with Sweet Potato Crust
Cauliflower + Yogurt Bagels
Taco Meat (with Pinto Beans)
Mac and Cheese with Caulilfower + Sweet Potato
Chicken Nuggets with Beans + Carrots
Creamed Spinach Garlic Bread
Loaded Queso (with Squash)
Banana Carrot Oat Muffins
Brooklyn Blackout Cake (with Beets + Avocado)
Sweet Potato Cinnamon Rolls
But fear not: there are no fancy ingredients or complicated cooking techniques. These easy, accessible recipes have been tested hundreds of times, by Nikki and other parents, for surefire family food wins! This collection of tried-and-true dishes will wow picky eaters and foodie parents alike with creative veggie twists on breakfasts, lunches, dinners, snacks, sides, and dessert.
About the Author
---
Nikki Dinki is a chef, author, mom, TV host and picky-eater-turned-veggie-lover who is spreading the delicious veggie word! You can flip through her award-winning first book, Meat On The Side, follow her food-driven adventures and unique creations on multiple Food Network and Cooking Channel series, and watch her share recipes regularly on the Wendy Williams and Dr. Oz shows. She also candidly reveals her successes and struggles of navigating three kids (including a set of twins!) and offers up more tasty veggie-focused recipes on social media and NikkiDinkiCooking.com.