Pint of Contention (Paperback)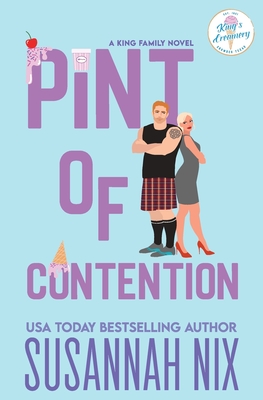 $18.99

In Stock at Our Warehouse - Usually Ships in 1-5 Days
(This book cannot be returned.)
Description
---
They've both got good reasons to fight falling in love, but they can't resist the overpowering attraction pulling them together...
Wicked Witch. Ballbuster. The Terminator. Those are just a few of the nicknames Maggie Silvestri's been called in her professional life. As the executive consultant King's Creamery has brought in to save them from financial ruin, she decides which employees get the ax. She can't afford to make friends or get chummy with her new neighbors.
Try telling that to the enormous, hunky fireman next door who's annoyingly determined to make friends with her. It's not enough that the guy saves kittens, tosses tree trunks around while wearing a kilt, and has a body that makes Thor look puny. He also works out shirtless in full view of her kitchen window. She might be secretly obsessed.
When a newspaper expos turns the whole town against Maggie, her hot fireman neighbor steps up to act as her protector, and her secret obsession threatens to turn into a case of serious feelings. But she can't allow that to happen when she's only there temporarily. She's got to keep her walls up to protect the heart everyone thinks she doesn't have.
Ryan McCafferty's new neighbor might act like she wants nothing to do with him, but he's seen her watching him from her window. He can tell she likes what she sees, and he loves pushing her buttons-a little too much. He's got no restraint when it comes to this woman.
Now he can't get her out of his head. The more time he spends with Maggie, the more he suspects she might be the soul mate he's been waiting for all his life.
Of course he'd find her now, when he can't risk letting her get too close. If she does, she might discover the secret he's been keeping from everyone.
Soul mate or not, he's got to let her go. Even if it kills him.