How to Suffer … In 10 Easy Steps: Discover, Embrace and Own the Mechanics of Misery (Paperback)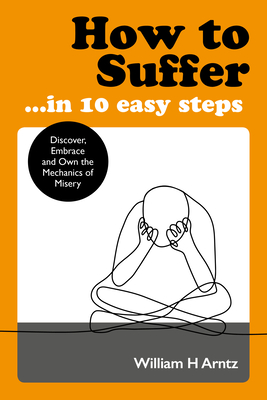 $18.95
In Stock at Our Warehouse - Usually Ships in 1-5 Days
Staff Reviews
---
So, I thought this was going to be a humor book. I wasn't entirely wrong. It is pretty funny. But it actually is an in-depth look at what suffering is, why it happens, and what we can do about it. I am a spiritual seeker. Part of that for me has always been about looking at myself and getting into alignment with the universe. So, obviously, this book is perfect for me. I love that the beginning is written from the perspective of how best to stay in suffering, because I find I'm often doing those things even when I think I don't want to suffer anymore. It is incredibly effective. I definitely recommend this book for anyone interested in finding more serenity in their life, but that needs to be eased into it with a little humor.
— Anna Brown - Katy Budget Books
Description
---
What!? A "Self-Help" book on How to Suffer!? You must be kidding. Well YES and NO. YES in that it's a satirical roast of self-help books that promise everything and tell you it'll be easy (and it never is). NO in that it turns out that looking at and dealing with suffering is the Gorilla in the room that everyone avoids, to our own undoing. And YES there is some kidding around, as a humorous approach is the best way to sneak up on the mothership of bad times: Suffering. And NO you won't have to suffer to read it!

Following the 10 Easy Steps (just do the opposite and don't suffer) there is the Suffering Hall of Fame, and then the 6 Slippery Steps to End, or at least change, your suffering state. Chapters include: Buddha Kicks the Habit (of Suffering), The Power of Not-Now, Beyond the Roast – Let's Get Real and The Pseudo Science of Suffering –in which you learn how to construct and use your very own Sufferometer.

It's a lot for one little book, but then again it is a subject which consumes, directs and shapes so much of what we all do, and/or try not to do, in every day life.
About the Author
---
William Arntz began his professional career as a research laser physicist, developing wave optics simulators for the high energy lasing systems that became the "Star Wars" strategic defense system. He then left the scientific world and spent 20 years studying with two spiritual teachers. During that time he wrote the system management software product, AutoSys, and sold the company for millions. Following his lifelong passion for filmmaking, he used the proceeds from that to produce, direct and write the film What the BLEEP Do We Know!? incorporating his scientific background, spiritual training and a desire to make people laugh and think.