How to Suffer … In 10 Easy Steps: Discover, Embrace and Own the Mechanics of Misery (Paperback)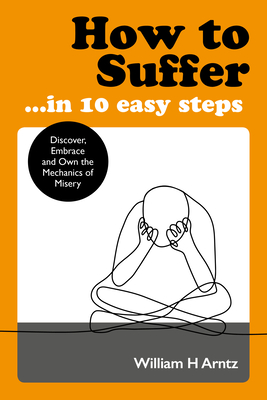 $18.95
In Stock at Our Warehouse - Usually Ships in 1-5 Days
Staff Reviews
---
So, I thought this was going to be a humor book. I wasn't entirely wrong. It is pretty funny. But it actually is an in-depth look at what suffering is, why it happens, and what we can do about it. I am a spiritual seeker. Part of that for me has always been about looking at myself and getting into alignment with the universe. So, obviously, this book is perfect for me. I love that the beginning is written from the perspective of how best to stay in suffering, because I find I'm often doing those things even when I think I don't want to suffer anymore. It is incredibly effective. I definitely recommend this book for anyone interested in finding more serenity in their life, but that needs to be eased into it with a little humor.
— Anna Brown - Katy Budget Books
Description
---
Almost every self-help book seems to be about how to be happy but what about recognizing and accepting that we suffer? In this, the ultimate guide on how to suffer, you will discover how to go from suffering in silence to suffering in style, showing you how to walk the peaceful pathway from regret to acceptance and embrace.

Almost every self-help book seems to be about how to be happy, how to be empowered, how to be in a fabulous relationship, how to make a million ... in other words, how to be anything other than the inevitably suffering human beings most of us are. (At least at some point in our lives!). Taking the exact opposite tack, award-winning author, filmmaker, and self-made millionaire William Arntz has chosen the surprising and frequently comical approach to self-help by teaching people how to suffer.

We all experience suffering, so why fight it? Better to embrace it, understand it and learn to walk the path in harmony. Better to understand the steps we take to arrive at suffering than to pretend they are not there. Perhaps, in the recognition of those steps, we might stand a chance of escaping. From the Suffering Cycle and how to construct your very own Sufferometer, to the nature of earthly duality (which guarantees suffering).

The book reveals the things we all do that create earthly angst and misery (no matter how much money we make or how amazing our love life is) - all of it set forth with sly, tongue-in-cheek humour that takes the sting, if not the truth, out of Will's suffering formula.
About the Author
---
William Arntz began his professional career as a research laser physicist, developing wave optics simulators for the high energy lasing systems that became the "Star Wars" strategic defense system. He then left the scientific world and spent 20 years studying with two spiritual teachers. During that time he wrote the system management software product, AutoSys, and sold the company for millions. Following his lifelong passion for filmmaking, he used the proceeds from that to produce, direct and write the film What the BLEEP Do We Know!? incorporating his scientific background, spiritual training and a desire to make people laugh and think.