The Beginner's Guide To Wholesaling Real Estate: : A Step-By-Step System For Wholesale Real Estate Investing (Paperback)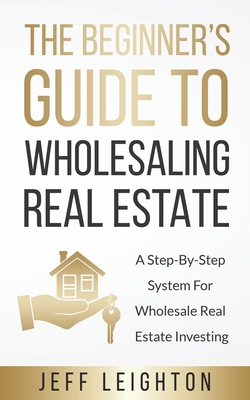 $14.99

In Stock at Our Warehouse - Usually Ships in 1-5 Days
Description
---
Finally A Step-By-Step How-To Guide For Wholesaling Real Estate
If you've ever wanted to get started in real estate investing, then wholesaling is the fastest path to becoming a real estate investor.
This action-packed guide to flipping houses takes the guesswork out of wholesaling and gives you a step by step plan to start successfully flipping deals and making money.
Many newer real estate investors are using outdated or inaccurate advice for wholesaling. No matter how many different strategies they try, they still can't seem to put that first deal together.
You might be able to relate, or maybe you are brand new to real estate investing. If you're like most new investors, you are overwhelmed by the amount of information out there. You are looking for exactly how to start investing in real estate and have lasting success.
The good news is that there's a simple solution. It's all about using step by step approach designed to help you first generate leads, qualify leads, and then put deals under contract. Also, the best part about wholesaling real estate is that it requires low and in most cases no money down to complete a transaction.
This proven approach is detailed in The Beginner's Guide To Wholesaling Houses - A Step By Step System For Wholesale Real Estate Investing. Although this guide is short, it is action packed information from a six figure real estate investor. I purposely removed all the fluff so that you can dive right into the lucrative and exciting world of wholesaling and flipping.
In the Beginner's Guide to Wholesaling, you'll discover...
- Step-By-Step instructions for wholesaling your first deal
- How to avoid common wholesaling mistakes
- 7 easy to implement ways to build a cash buyer's list quickly
- The right types of real estate marketing to generate steady leads from motivated sellers every month
- Investing in real estate with no money down
- A full list of recommended resources for wholesalers that I use
- And much more...
That's just an overview of what you'll find in The Beginner's Guide To Wholesaling Houses - A Step By Step System For Wholesaling Real Estate Learn the simple and effective strategies for buying and selling homes with a proven formula.
Click the "Buy Now" button at the top of this page to grab your copy of Beginner's Guide To Wholesaling today