Reyanna's Fire: Book 2 of the Forge Born Duology (Paperback)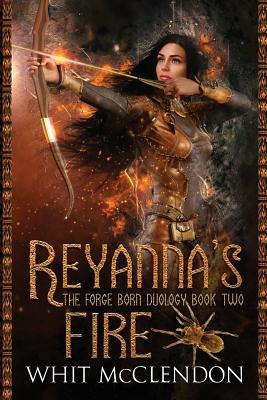 $9.99
In Stock at Our Warehouse - Usually Ships in 1-5 Days
Description
---
The tale began in Reyanna's Prophecy bound by a shared vision of devastating power, a young girl, aging heroes, a dangerous Mage, and a trio of evil sorcerers embark on dangerous paths. Reyanna's Fire draws them together in the story's stunning conclusion
Reyanna and the Guardians struggle to unravel the Prophecy. At its center is Gart, the most powerful of them all. Determined to perform a ritual that will either reunite him with his long-lost wife, or destroy the world, Gart needs only the Heart of Corria, a huge, mystical diamond, to fulfill his purpose. The price had been high; he's wounded, the Jidaan of Storms has been stolen, and his faithful dog, Beauty, is near death. Nevertheless, his obsession drives him on.
Reyanna's fire magick has grown almost beyond her ability to control. When confronted by the evil sorceress, Melidia, Reyanna's power takes over her mind and body, and she wreaks havoc to make her escape. Horrified, but determined to find answers, she rides a giant spider towards the deadly swamp known as the Poravian Mire in search of her destiny.
Meanwhile, Nessar, Kiran, and Layton trek across the continent to prevent Gart from completing his ritual. They, too, must brave the Mire's lethal creatures and unknown dangers, but the hazards of the Mire are only the beginning. In her lust for power, Melidia has awakened an ancient and monstrous evil that could kill them all.
Can Reyanna and the Guardians stop Gart's mission? Or will Melidia's evil triumph after all?
It's an action-packed, epic fantasy adventure set in the world of the Fire of the Jidaan trilogy
Interview with the Author
Q - So, what makes books of your world so special?
A - This epic fantasy series came about because years ago, I read a couple of books from a series that was new to me...and I hated them I wanted a certain kind of sword & sorcery tale that had noble heroes, evil villains, and lots of action and adventure Frustrated, I knew it was time I wrote the story I wanted to read.
A lifelong martial artist (I now own and run a martial arts school), I also wanted to add a certain 'kung fu flavor' to the tale, so I integrated that into my writing. I've always been a fan of long-bladed Chinese weapons, and they inspired the magickal spears that are central to the story. I actually had one made, and I love how it moves See it here: https: //www.youtube.com/watch?v=ShR8AHMUpOI
The Forge Born Duology and its predecessor, the Fire of the Jidaan Trilogy, are both solid fantasy tales set in a familiar, exciting, and occasionally astonishing world of blades, magick, and monsters: fun stuff
Q - Will there be more books set in the same world?
A - Yes I've already begun notes on a story (a couple, actually) that happens not long after the events of the Duology. I keep 'seeing' scenes in that world that make me ask questions. The only way I can answer those questions is to write the danged story
Q - So, why should readers give these books a try?
A - Let's let the readers answer that
"All the characters are vividly described and draw you in the story more than you could imagine. In a market saturated with fantasy fiction now, this is one story that will leave you wanting more and looking forward to the future books."
"All in all it is storytelling done right and I can't wait to read the next installment."
" Whit's martial arts background gives life to the fight scenes and to the characters learning their way around the different weapons."
Readers who enjoy epic fantasy with mages, monsters, swords, sorcery, and heroes battling against all odds will definitely enjoy this series and its predecessor Thanks for reading, folks
About the Author
---
Whit McClendon is an author and martial arts instructor from Katy, Texas. Always a big fan of comic books and fantasy-adventure fiction, Whit combines his passion for kung fu and other martial arts with his love of swords and sorcery to write his stories. Once a cubicle dweller in the petrochemical field, he now owns and runs Jade Mountain Martial Arts in Katy, Tx, and writes in every spare minute. He is the author of the Fire of the Jidaan Trilogy, and his latest project is the Forge Born Duology.