Saving Nature One Yard at a Time: How to Protect and Nurture Our Native Species (Paperback)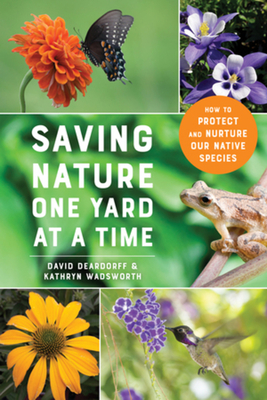 $19.95

In Stock at Our Warehouse - Usually Ships in 1-5 Days
Description
---
Discover 100 ways to support endangered plant and wildlife species in your community and beyond.
David Deardorff and Kathryn Wadsworth present 100 home projects designed to inspire and empower anyone who wants to help save our native flora and fauna in the face of habitat loss and climate change. This book focuses on saving creatures and plants that are especially vulnerable but that can be successfully helped by our efforts, such as bees, frogs, butterflies, birds, trees, and wildflowers. Each project meets four crucial criteria: (1) it will make a significant difference to the survival of the species, (2) has a high likelihood of success, (3) is easy to implement, and (4) is family-friendly.
The book raises awareness of endangered species that readers can help by undertaking projects unique to their bioregion. Examples include building an amphibian house for salamanders, raising tadpoles, creating nesting sites for bees, and much more. Saving Nature One Yard at a Time is an inspirational and practical compendium that will give readers the knowledge and tools they need to take an active role in nurturing the world around us, no matter we live.
About the Author
---
David Deardorff is the co-author of the best-selling What's Wrong With My Plant? He holds a PhD in botany and lives in Port Townsend, Washington.

Kathryn Wadsworth is the co-author of the best-selling What's Wrong With My Plant? She has a master's in filmmaking and has led nature expeditions around the world. She lives in Port Townsend, Washington.