The Parent Compass: Navigating Your Teen's Wellness and Academic Journey in Today's Competitive World (Paperback)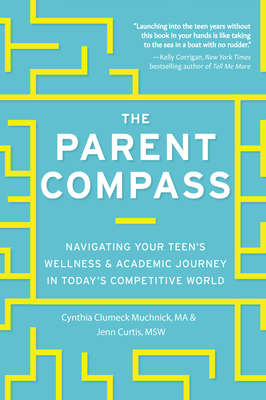 $16.99
In Stock at Our Warehouse - Usually Ships in 1-5 Days
Description
---
Bragging rights and bumper stickers are some of the social forces fueling today's parenting behavior—and, as a result, even well-intentioned parents are behaving badly. Many parents don't know how best to support their teens, especially when everyone around them seems to be frantically tutoring, managing, and helicoptering.
The Parent Compass
provides guidance on what parents' roles should be in supporting their teens' mental health as they traverse the maze of the adolescent years. For anyone daunted by the unique challenge of parenting well in this pressure-laden and uncertain era,
The Parent Compass
offers:
Advice on fostering grit and resilience in your teen 
Strategies to help your teen approach life with purpose
Guidance on how to preserve your relationship with your teen while navigating a competitive academic environment
Clear explanations of your appropriate role in the college admission process
Effective ways to approach technology use in your home, and much more!
Using
The Parent Compass
to navigate the adolescent years will help you parent with confidence and intention, allowing you to forge a trusting, positive relationship with your teen. 
About the Author
---
Cynthia Clumeck Muchnick, MA, is a graduate of Stanford University and has been working in education for the past 25+ years as a former Assistant Director of College Admission, high school teacher, educational consultant, and author of five other education-related books. She speaks professionally to parents, students, teachers, and businesses on topics such as study skills, the adolescent journey, college admission, and now the parent compass movement.

Jenn Curtis, MSW, earned a BA from UCLA and MSW from USC and is an educational consultant and professional speaker. As owner of FutureWise Consulting, she has worked with hundreds of students on every aspect of the college admission process. She is particularly passionate about empowering teens to approach life with intention and educating parents about using their parent compass. 

Denise Pope, Ph.D, is a senior lecturer at the Stanford University Graduate School of Education where she specializes in student engagement, curriculum studies, qualitative research methods, and service learning. Challenge Success is an expanded version of the SOS: Stressed-Out Students project that Dr. Pope founded and directed from 2003 to 2008. She is the author of "Doing School": How We Are Creating a Generation of Stressed Out, Materialistic, and Miseducated Students (Yale University Press, 2001), which was awarded Notable Book in Education by the American School Board Journal, 2001, and coauthor of Overloaded and Underprepared: Strategies for Stronger Schools and Healthy, Successful Kids (Jossey-Bass, 2015). Dr. Pope lectures nationally on parenting techniques and pedagogical strategies to increase student health, engagement with learning, and integrity. She is a 3-time recipient of the Stanford University School of Education Outstanding Teacher and Mentor Award and was honored with the 2012 Education Professor of the Year "Educators' Voice Award" from the Academy of Education Arts and Sciences. Prior to teaching at Stanford, Dr. Pope taught high school English in Fremont, California, and college composition and rhetoric courses at Santa Clara University. She lives in Los Altos, California, with her husband and three children.
Praise For…
---
"An earnest and instructive guide...Parents of teens will appreciate the authors' well-reasoned and practical approach."
—Publishers Weekly

"Launching into the teen years without this book in your hands is like taking to the sea in a boat with no rudder."
—Kelly Corrigan, New York Times bestselling author of Tell Me More

"This book provides sound advice for parents trying to help navigate their teen's journey through life."
—Midwest Book Review

"At a time when parents are bombarded with so much contradictory advice about their children's education that it's a wonder they can even breathe (let alone think), The Parent Compass offers counsel that is wise, calm, comprehensive, and most important of all, well-informed. These are experts you can trust."
—William Deresiewicz, New York Times bestselling author of Excellent Sheep: The Miseducation of the American Elite and the Way to a Meaningful Life  

"My new parenting bible!"
—Deirdre Fitzpatrick, morning news anchor at KCRA TV/NBC 3 Sacramento, Host of the Dying to Ask Podcast

"Great for parents or anyone interested in empowering young people. As a co-author of the book Unacceptable, I saw the end result of the cutthroat college admissions process and just how off track people could get. This is the book that could help many parents from going down that road to begin with. Curtis and Muchnick couldn't be better guides; they deliver smart and helpful advice with a huge dose of empathy. They speak as experts who have been in the trenches, and as parents, and they deliver lots of great anecdotes that make this a very relatable book. It is never preachy or dry—it's like sitting down with your wisest friend, one who wants the best for you and your kid."
—Jennifer Levitz, co-author of Unacceptable: Privilege, Deceit, and the Making of the College Admissions Scandal

"This really is a remarkable book. It strikes a balance between being an involved parent and being a helicopter parent, between a clear-on-the-sidelines parent and everything in the trenches; it saves the day."
—Brian Rogers, faculty, Webb Schools, and author of The Whole of the Moon

"At a time when our love for our children is being contorted into actions we may no longer recognize as parents, this book offers a compassionate but firm users manual for how to navigate some of the most treacherous years of a young person's life. Parenting is the most difficult role in society today, bar none: the sense of scarcity and abundance of fear have turned us upside down in many ways. The Parent Compass is the guide that will help us to stop snatching defeat from the jaws of victory and bring us back to principles. And when the principles are clear, the decisions are easy."
—Than Healy, head of school, Menlo School

"Superbly researched with anecdotes that bring parent etiquette to life—a phrase that I just love! Fair warning, expect to have your hand metaphorically 'slapped' now and again, as it is a necessary part of learning how to best support our teens. Fortunately, this is done in kindness with the insights of how to do better for the overall well-being of your teenager. Follow their advice and you will have a healthy teenager; better yet, ten years from now, you'll have a healthy and contributing young adult."
—Dr. Mike Riera, author of Staying Connected to Your Teenager and head of school, Brentwood School

"The Parent Compass helps parents resist the urge to hover and micromanage, and guides them to reflect deeply on their actions and make important changes to support their teen's long-term well-being and success."
—Dr. Denise Pope, senior lecturer, Stanford University and co-founder, Challenge Success

"This book offers a refreshing look at current foibles of all involved in the educational process and provides common sense suggestions for better parenting."
—Linda Winrow, high school teacher and educator for nearly 50 years

"This is a very timely and important book . . . for parents  . . . [and] the landscape is ever changing. The Parent Compass provides great advice and guidance from experts of all types."
—Michael Dennin, professor of physics and astronomy and Vice Provost for Teaching and Learning, UC–Irvine 

"It's hard enough for today's teens to feel constant pressure from the outside world to knock it out of the park further than everyone else around them, but when parents overstep boundaries by writing their kid's papers, speaking for them, and micromanaging their lives into the ground, that's crossing a line. The Parent Compass is a truly necessary resource that helps keep parents in check when the urge strikes to helicopter and bulldoze and interfere in the parts of our teenage kid's lives that should be up to them to manage."
—Lisa Sugarman, nationally syndicated columnist, radio show host, speaker, and author of How To Raise Perfectly Imperfect Kids—And Be OK with It

"Parenting teenagers is hard work, plain and simple. In an era where common sense seems to have disappeared and our parental anxieties rule the day, The Parent Compass is just what families need to help guide them through the forest of adolescence. The Parent Compass is an excellent tool to reassure parents to trust their instincts and ignore the drop-off line gossip and cocktail party hysteria. The advice it provides will allow all of us to more thoughtfully and lovingly parent our children while still preparing them to be healthy adults who can make it in the world."
—Chris Mazzola, head of school, The Branson School  

"Finally—a book that calls out what we know to be true about how overly involved parents can negatively impact a child's development, while offering simple ways to implement practical advice on how to help our children thrive during their teenage years. A must read for any parent who wants an emotionally healthy, confident, independent child!"
—Jill Quigley, principal, middle & upper schools, TVT Community Day School