Grateful Together: A Gratitude Journal for Kids and Their Parents (Paperback)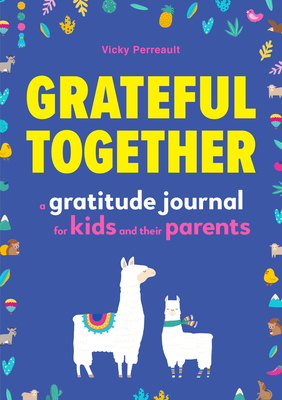 $12.99

In Stock at Our Warehouse - Usually Ships in 1-5 Days
Description
---
Writing together brings you closer together—for adults and kids ages 7 to 10
It isn't always easy for kids and parents to talk. This shared, back-and-forth journal inspires communication and gratitude, doing surprising and wonderful things to strengthen the bond between any child and their caregiver.
It's a colorful, guided journal experience that keeps parents and children connecting about both the big and little things. Take turns filling out questions and lists of what you're thankful for and get creative with free spaces to write or draw. When you've practiced thinking about what's most important between you, gratitude and closeness come easily.
This journal helps both of you build gratitude with:
Just the beginning—This gratitude journal is your guide to positive communication habits that can last a lifetime.
Your journal, your rules—Decide together how often you'd like to write in this journal, and how you're going to pass it back and forth.
Surprises on every page—There's a wide range of activities and prompts that don't repeat, so each entry reveals something different.
Grow together by writing with gratitude—and each other—in mind.
About the Author
---
VICKY PERREAULT is a mother and former teacher with a master's degree in early childhood and elementary education. She uses her passion for making learning fun to create kids' activities, family-friendly recipes, and parenting tips. Find them on her blog at messforless.net.
Praise For…
---
"The perfect book for parents of kids who take everything for granted. A creative and fun way to help them see the world in a positive light and get into the gratitude habit. As an added bonus, it will help you connect with your child as you work together. Family life will be calmer and happier for all after completing the journal."—Dr. Orlena Kerek, founder of DrOrlena.com

"Grateful Together is perfect for my elementary-aged son and I. The colors and images are adorable, the prompts are age-appropriate and engaging, and, most importantly of all, it allows us to cultivate gratitude in our family. The shared journal experience provides a meaningful way to connect with your child, leaving you with concrete reminders of what you have to be grateful for. I'm grateful that Vicky created this fantastic tool for families!"—Sara Robinson, MA, author of Choose You, A Self-Care Journal and Self-Care for Moms

"Vicky has created a friendly and simple to use tool for improving communication between parent and child. The ability to share one's thoughts, feelings, and experiences utilizing structure and healthy boundaries will not only strengthen parent/child bonds, but also lay the groundwork for building successful relationships in the future. Grateful Together is a book I can definitely recommend to parents or children wanting more connection and to improve communication skills."—Kimberly Ehrlich, M.A., licensed marriage and family therapist