Bad Blood: a Virgil Flowers novel (Abridged / CD-Audio)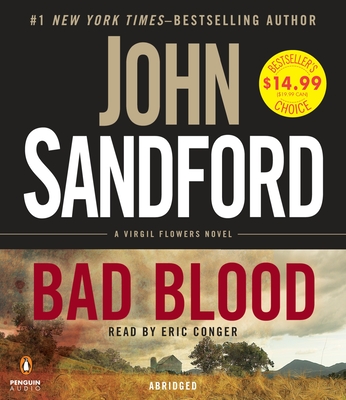 $17.54
Email or call for price.
Other Books in Series
This is book number 4 in the A Virgil Flowers Novel series.
Description
---
The fourth thrilling novel in #1 New York Times bestselling author John Sandford's Virgil Flowers series.

Two bodies in two days. One is murder. The other is suicide. Virgil Flowers never imagined that discovering the connection would lead him into the perverse history of the Minnesota farm community, and almost unimaginable darkness.
About the Author
---
"Like the best writers in this genre—Dashiell Hammett, Elmore Leonard, Ed McBain among them—John Sandford evokes his netherworld with authentic dialogue and meticulous details."—
Minneapolis Star Tribune
John Sandford is the pseudonym of the Pulitzer Prize-winning journalist John Camp. Camp was born in 1944 and was raised in Cedar Rapids, Iowa. He received his B.A. in American Studies from the University of Iowa, and received his first training as a journalist and reporter when he was in Korea for 15 months working for his base paper.
After the army, Camp spent 10 months working for the Cape Girardeau Se Missourian newspaper before returning to the University of Iowa for his Masters in Journalism. From 1971 to 1978, he worked as a general assignment reporter for the Miami Herald, covering killings and drug cases, among other beats, with his colleague, the Pulitzer Prize-winning journalist Edna Buchanan.
In 1978, Camp joined the St. Paul Pioneer Press as a features reporter. He became a daily columnist at the newspaper in 1980. In the same year, he was named a finalist for the Pulitzer Prize for an article he wrote on the Native American communities in Minnesota and North Dakota and their modern day social problems. In 1986, Camp won the Pulitzer Prize for feature writing for a series of articles on the farm crisis in the Midwest.
Camp has written fourteen books in the bestselling "Prey" series under the name John Sandford. The titles in this series, which features Lucas Davenport, include Rules of Prey, Shadow Prey, Eyes of Prey, Silent Prey, Winter Prey, Night Prey, Mind Prey, Sudden Prey, Secret Prey, Certain Prey, Easy Prey, Chosen Prey, Naked Prey, Broken Prey, Invisible Prey, and now, Phantom Prey.
With the "Prey" series, Sandford has displayed a brilliance of characterization and pace that has earned him wide praise and made the books national bestsellers. He has been hailed as a "born storyteller" (San Diego Tribune), his work as "the kind of trimmed-to-the-bone thriller you can't put down" (Chicago Tribune), and Davenport as "one of the most engaging (and iconoclastic) characters in contemporary fiction." (Detroit News)
Praise For…
---
"Flowers is a fun character, smart and honest with a healthy supply of cynicism and snark…a thoroughly engaging, suspenseful, satisfying story."—The Washington Examiner
 
"John Sandford is the master of his craft."—Dayton Daily News
 
"Sandford's exciting fourth thriller to feature Minnesota Bureau of Criminal Apprehension agent Virgil Flowers. [His] biggest…case to date."—Publishers Weekly
 
"A Pandora's box of multiple murders, criminal behavior…and revelations of deviancy that go back generations. As usual, Sandford delivers a great mystery with action, suspense, humor, and, yes, sex. Virgil always gets his man, but he also gets the girl. Good reading."—Booklist