Storm Front (A Virgil Flowers Novel #7) (CD-Audio)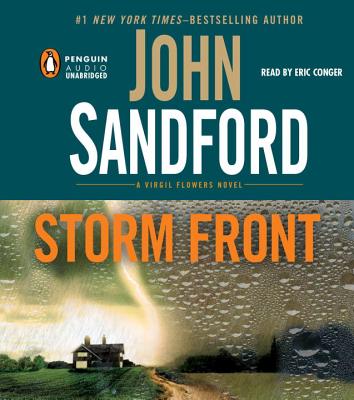 Other Books in Series
This is book number 7 in the A Virgil Flowers Novel series.
Description
---
The thrilling new novel in the #1 New York Times–bestselling series.

In Israel, a man clutching a backpack searches desperately for a boat. In Minnesota, Virgil Flowers gets a message from Lucas Davenport: You're about to get a visitor. It's an Israeli cop, and she's tailing a man who's smuggled out an extraordinary relic—a copper scroll revealing startling details about the man known as King Solomon.

Wait a minute, laughs Virgil. Is this one of those Da Vinci Code deals? The secret scroll, the blockbuster revelation, the teams of murderous bad guys? Should I be boning up on my Bible verses?

He looks at the cop. She's not laughing. As it turns out, there are very bad men chasing the relic, and they don't care who's in the way or what they have to do to get it. Maybe Virgil should start praying.
About the Author
---
JOHN SANDFORD is the author of twenty-three Prey novels; the Virgil Flowers novels, most recently Mad River; and six other books. He lives in California and New Mexico.
Praise For…
---
Praise for Storm Front
 
"One of the best in that series so far . . . [it is] exciting, complex and funny . . . The beauty of Sanford's writing is that the narrative of the book is told in perfect harmony with Flowers' personality. The descriptions of the plot and the locale of the story have the same laconic quality as Virgil's tone and speaking habits. You seem to be in Virgil's mind and thoughts as the narrative unfolds . . . STORM FRONT is an enjoyable and relaxing read. Sandford knows his characters, his locale and his plot. There are no missteps. It is entertaining reading all the way."—Huffington Post
 
"With another gritty storyline and appealing characters, Sandford has penned another winner, one sure to shoot to the top of the best-seller lists."—Richmond Times-Dispatch
 
"Clever, quirky . . . unusually good-natured intrigue distinguishes this outing."—Publishers Weekly (starred review)
 
Praise for Mad River
 
"The best entry in a stellar series" – Booklist (starred review)
 
"A high-octane thrill ride. Virgil pulls out all the stops." – Publishers Weekly
 
"Wonderfully entertaining" – St. Louis Post-Dispatch
 
"Very strong. Sandford is one of America's ace mystery authors." – Cleveland Plain Dealer
 
"The greatest strength of Mad River lies in Flowers himself. It's hard to think of a more balanced and genial investigative hero, yet he's still able to keep cops and bad guys alike in line. The killers' motivations and dynamic remain riveting until the final pages." – Shelf Awareness
 
"There are few events more welcome in the literary world than the appearance of another John Sandford book. Mad River is shot through with dark humor from all sides [and] the violence that is the driving force of the book ratchets up the suspense to an almost excruciating degree." – Bookreporter.com
 
"The best thing about Sandford's writing is that it is still fresh. He writes with enthusiasm and never coasts on his merits or uses any tricks of the trade. Mad River is just as refreshing as the first novel he ever wrote." – Huffington Post
 
"Sandford can be depended upon to create thrillers infused with page-turner plots, knife's-edge prose, and well-drawn portraits. What sets this series apart, though, is Flowers himself, a man of action but also one of contemplation. In Mad River, as in his entire body of work, Sandford sets out not only to thrill and entertain, but also to inspire thought." – Richmond Times-Dispatch