Rough Country (A Virgil Flowers Novel #3) (Abridged / CD-Audio)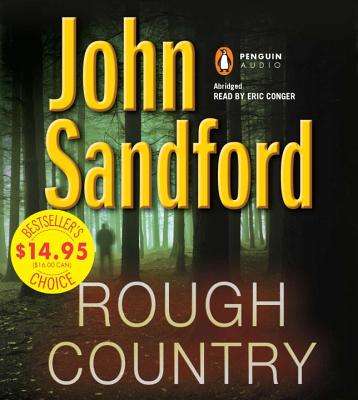 Other Books in Series
This is book number 3 in the A Virgil Flowers Novel series.
Description
---
The murder of a successful advertising executive leads Detective Virgil Flowers to the unlikely scene of the crime: a peaceful and bucolic wooded resort with as many suspects as it has secrets...

While competing in a fishing tournament in a remote area of northern Minnesota, Virgil Flowers receives a call from Lucas Davenport to investigate a brutal murder at a nearby resort for women only. As Virgil begins investigating, he finds a web of connections between the people at the resort, the victim, and some local women, notably a talented and popular country singer. The more Virgil digs, the more he discovers the arrows of suspicion point in many directions, encompassing a multitude of motivations: jealousy, blackmail, greed, anger, and fear.

Then Virgil discovers something that sends his investigation reeling. This is not the first murder connected to the Eagle Nest Lodge. Nor will it be the last...
About the Author
---
"Like the best writers in this genre—Dashiell Hammett, Elmore Leonard, Ed McBain among them—John Sandford evokes his netherworld with authentic dialogue and meticulous details."—
Minneapolis Star Tribune
John Sandford is the pseudonym of the Pulitzer Prize-winning journalist John Camp. Camp was born in 1944 and was raised in Cedar Rapids, Iowa. He received his B.A. in American Studies from the University of Iowa, and received his first training as a journalist and reporter when he was in Korea for 15 months working for his base paper.
After the army, Camp spent 10 months working for the Cape Girardeau Se Missourian newspaper before returning to the University of Iowa for his Masters in Journalism. From 1971 to 1978, he worked as a general assignment reporter for the Miami Herald, covering killings and drug cases, among other beats, with his colleague, the Pulitzer Prize-winning journalist Edna Buchanan.
In 1978, Camp joined the St. Paul Pioneer Press as a features reporter. He became a daily columnist at the newspaper in 1980. In the same year, he was named a finalist for the Pulitzer Prize for an article he wrote on the Native American communities in Minnesota and North Dakota and their modern day social problems. In 1986, Camp won the Pulitzer Prize for feature writing for a series of articles on the farm crisis in the Midwest.
Camp has written fourteen books in the bestselling "Prey" series under the name John Sandford. The titles in this series, which features Lucas Davenport, include Rules of Prey, Shadow Prey, Eyes of Prey, Silent Prey, Winter Prey, Night Prey, Mind Prey, Sudden Prey, Secret Prey, Certain Prey, Easy Prey, Chosen Prey, Naked Prey, Broken Prey, Invisible Prey, and now, Phantom Prey.
With the "Prey" series, Sandford has displayed a brilliance of characterization and pace that has earned him wide praise and made the books national bestsellers. He has been hailed as a "born storyteller" (San Diego Tribune), his work as "the kind of trimmed-to-the-bone thriller you can't put down" (Chicago Tribune), and Davenport as "one of the most engaging (and iconoclastic) characters in contemporary fiction." (Detroit News)
Praise For…
---
Praise for Rough Country

"Rich, satisfying, and frequently hilarious."—Stephen King, Entertainment Weekly

"Sandford takes literary chances, and he succeeds brilliantly here with Minnesota state cop Virgil Flowers. The characters, especially Flowers, come vividly and delightfully to life, and the dialogue is sprightly, witty, and sometimes sexy. Sandford writes entertainment that's not to be missed. Grade: A."—The Cleveland Plain Dealer 

"Unexpected twists...Sandford excels at all the required elements of the novelist: plot, personality, and prose. The melding is masterful and produces an exquisitely paced book at once beautiful and profane, a story that fans of both crime-novel approaches can enjoy. He makes Flowers as appealing and captivating a character as always. With a confident touch, Sandford brings it all home in Rough Country."—Richmond Times-Dispatch

"An entertaining romp...Sandford has long been one of the best crime series mystery writers around. He keeps the pages turning and the dialogue snapping better than anyone this side of Elmore Leonard. An entertaining...and completely engrossing page-turner."—The Post and Courier

"Fast-paced [and] action-packed."—Minneapolis Star Tribune

"It's a complicated case, but Virgil is up to the task, and, as always, he's funny, smart, and tough when he needs to be."—Publishers Weekly