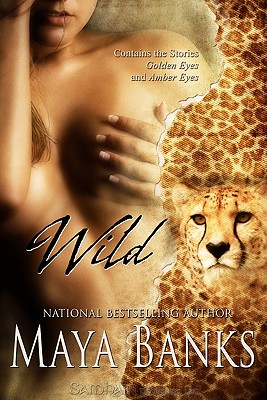 Email or call for price
Special Order - Subject to Availability
Description
---
Love can tame the wildest heart…
Golden Eyes
When Duncan finds an injured cheetah, questions about how she wound up in his mountains—and going after the poachers pursuing her—can wait. First he brings her home. Then he checks in on his patient, and finds not a cat, but a gorgeous, very
naked
woman. Aliyah Carter spent the past six months trapped in cheetah form, a prisoner of the poachers who took her to use in an illegal exotic-game hunt. Finally she's escaped, but now she faces another problem. A devastatingly sexy sheriff who knows her secret.
 Amber Eyes
The beautiful, timid cougar that appears at Hunter and Jericho's remote cabin breaks their quiet routine, warms their hearts—and rouses their curiosity. Why would this wild creature want to form a friendship with humans? Kaya has survived a lifetime of isolation in her shifted form. Yet there's something about these two men that draws her to embrace her human side. In the shelter of their love, she blooms. Then they are called away on a mission that goes terribly wrong. Now pregnant and alone, Kaya's only hope is that the men who love her will find their way home. 
Warning: This title contains explicit sex, adult language, sweet lovin', multiple partners and ménage a trois.
About the Author
---
Maya Banks lives in Texas with her husband, three children and assortment of pets. When she's not writing, she can be found hunting, fishing or playing poker. Wild is her 30th published title.
Praise For…
---
"Maya Banks delivers yet another captivatingly emotional read that promises to stay in your memory long after you've finished reading the final page of AMBER EYES." Romance Junkies
"Once again, Maya Banks has crafted another spectacular novel that will pull at your heart and make you feel all mushy inside." Fallen Angel Reviews
"Amber Eyes highlights what Maya Banks does best – she grabs her reader by the heart and doesn't let go. Emotionally gripping with smoldering passions, Amber Eyes is a must read. I joyfully recommend it!" Joyfully Reviewed