When Life Gives You Pears: The Healing Power of Family, Faith, and Funny People (Paperback)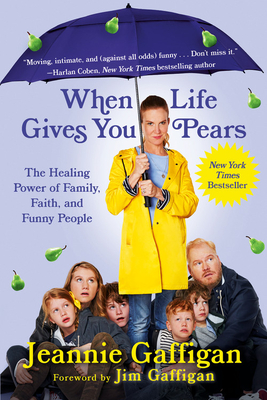 $16.99

In Stock at Our Warehouse - Usually Ships in 1-5 Days
Staff Reviews
---
I'm going to admit that I don't know much about Jim Gaffigan besides someone I follow posting quotes from him occasionally. I know at least some of his comedy is about parenting, so if I were a big comedy special watcher, I'd probably be into him. I knew absolutely nothing about his family life. I certainly didn't realize his wife was one of his writers, and therefore a very funny person. I listened to this book as an audiobook, so a note on the narrator: The author narrates a lot of this book. How she doesn't break down in some of the reading is beyond me. The beginning, however, is narrated by her sister because she had just undergone surgery on her vocal cords. The explanation for this sort of sets the tone for the book.
As a working mother, there were some major takeaways from this book. First, Jeannie had written off all the symptoms of a pretty significant brain tumor as just the result of being a busy mom. Again, ladies: Motherhood affects us like a brain tumor might. Tiredness, headaches, some dizzy spells; just par for the course, right? Second, and this lines up well with where I'm at in my personal journey, she feels like she is the only one who can do the household things "right", so she does them all. In the period where she was recovering from brain surgery, she had to allow someone else to handle it, and the world did not implode. She also realized that not allowing her family to take care of things themselves was doing them a disservice. Third, and most importantly, while I treasure my children and have certainly done a better job as a more experienced mother with my two littles of pausing to enjoy their random weird quirkiness when it hits, Jeannie talks a lot about how after she thought she might die, she realized we really don't have forever with our kids and she values her time with them in a whole new way.
This book may make you cry a little, but it will definitely make you laugh a lot. It will also do you the service of helping you evaluate how you're prioritizing your time at home.
— Anna Brown - Katy Budget Books
Description
---
The Big Sick meets Dad is Fat in this funny and heartfelt New York Times bestselling memoir from writer, director, wife, and mother, Jeannie Gaffigan, as she reflects on the life-changing impact of her battle with a pear-sized brain tumor.
In 2017, Jeannie's life came to a crashing halt when she was diagnosed with a life-threatening brain tumor. As the mother of 5 kids -- 6 if you include her husband -- sat in the neurosurgery department in star-covered sweats too whimsical for the seriousness of the situation, all she could think was "Am I going to die?"

Thankfully, Jeannie and her family were able to survive their time of crisis, and now she is sharing her deeply personal journey through this miraculous story: the challenging conversations she had with her children; how she came to terms with feeling powerless and ferociously crabby while bedridden and unable to eat for a month; and how she ultimately learned, re-learned and re re-learned to be more present in life.

With sincerity and hilarity, Jeannie invites you into her heart (and brain) during this trying time, emphasizing the importance of family, faith and humor as keys to her recovery and leading a more fulfilling life.
About the Author
---
Jeannie Gaffigan is a director, producer, and comedy writer. She co-wrote seven comedy specials with her husband Jim Gaffigan, the last four of which received Grammy nominations. Jeannie was the head writer and executive producer of the critically acclaimed The Jim Gaffigan Show, which was loosely based on her and Jim's life. She collaborated with Jim on the two New York Times bestsellers, Dad is Fat and Food: A Love Story. Jeannie, with the help of her two eldest children and some other crazy moms, created The Imagine Society Inc., a not for profit organization that connects youth-led service groups. Most impressively, she grew a tumor on her brain stem roughly the size of pear.

Jeannie presently lives in New York City with her five children, which feels more like six children if you include her husband Jim.
Praise For…
---
"Jeannie Gaffigan is an infinitely touching and personable writer, and her charm and force-of-nature persona saturate each page." —America Magazine

"A surprisingly hilarious story about surviving a brain tumor...her accessible writing style and honest voice create an intoxicating spell as she writes tenderly of learning the importance of living in the moment. Readers will be uplifted by Gaffigan's perseverance and outlook."—Publishers Weekly

"Written with humor and heart."—People

"Funny, endearing...[readers] will love Gaffigan's optimism, humor, and fascinating fight to reclaim her life...a fun blend of celebrity, mom, and medical memoir rolled into one."—Booklist

"Jeannie Gaffigan's indomitable spirit leaps off the pages in this moving, intimate, and (against all odds) funny memoir about one of the most trying times of her life. WHEN LIFE GIVES YOU PEARS is full of wisdom, inspiration, and resilience. Don't miss it."—Harlan Coben, New York Times bestselling author

"Behind every truly funny man is an even funnier woman. Which is why, after learning that she has a pear-shaped brain tumor, comedy writer Jeannie Gaffigan is perhaps the most perfect person to take the horrible thing and write about it with signature humor, wit, and sarcasm. From discovery to recovery, this story about surviving a medical crisis (and five kids) has you rocketing through every human emotion from gratitude to grief, but most of all it has you laughing and nodding your head at her wry and comedic take on life. Throw in a big helping of faith (yes, the God kind), irreverence, and universal parenting truths and you've got a must-read memoir that reminds all of us what' s important. This is a book to be shared with all."
—Lee Woodruff, New York Times bestselling author and journalist

"I've known Jeannie for a long time and it's no surprise that she turns the terror of a brain tumor into a hilarious and heartwarming tale."—Tony Hale, Emmy-winning actor and comedian (Arrested Development, VEEP, Toy Story 4)

"After reading Jeannie Gaffigan's moving, funny, and inspiring story, I have one only wish: I want her and Jim to adopt me. I mean, at this point, what's another kid? It's not like they'd notice."—Mo Rocca, author of Mobituaries: Great Lives Worth Reliving