Twice in a Blue Moon (Paperback)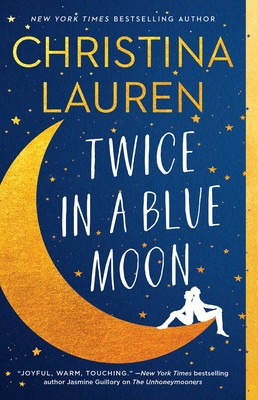 $16.00
In Stock at Our Warehouse - Usually Ships in 1-5 Days
Staff Reviews
---
Twice in a Blue Moon is one of those books I gave up sleep to finish. I wouldn't have thought that would be the case in the beginning, but there it is. I'm not giving anything away here you won't read in a synopsis. This is a second chance at love story. The book begins fourteen years in the past when the hero and heroine first meet. My one complaint about this novel is this setup takes too long. It's absolutely necessary. You need this backstory. It's not even that it's not interesting. I just personally prefer my backstory woven in to the present storyline. Once you get through the build-up, though, it's fantastic.
What the flashback did well was thoroughly set up the main conflict. There are still a few things that pop up that could have been avoided with simple communication, which I know is a pet peeve for some people, but given that's a huge problem in my real relationships, I totally buy it. There's a period where I think I was supposed to hate the hero. The authors were much too successful at making him really likeable for that to happen. I believed the whole time that there was a good explanation and he was not a bad guy. I did get why the heroine wanted to hate him, though.
Overall, this is a really great, fun read. This is a contemporary romance, but with enough wealth to make it feel slightly fantastical. The two main characters still feel like very real, flawed humans. The central conflict is believable, and the motivations ring true. There's some spice, and certainly a couple of sex scenes, but it's not a super high heat level book. It's much more about the feelings than the sex. I definitely recommend this one for fans of contemporary romance or light fiction.
— Anna Brown - Katy Budget Books
November 2019 Indie Next List
---
"This is a story about forgiveness and second chances, and it is full of heart. When 18-year-old Tate, the long-lost daughter of a famous actor, has a whirlwind vacation romance with Sam, he sells a story about her to the press for the big bucks. Now, 14 years later and an established actress herself, she has to work with Sam while trying not to let him see how his betrayal changed the course of her life. This novel feels more subdued, a slow burn dealing a lot with trust issues and complicated family dynamics. If you're looking for a sweet (and sexy) romance with depth that will keep you up until the wee hours of the morning, this is it."
— Leah Atlee, Bright Side Bookshop, Flagstaff, AZ
Description
---
From the New York Times bestselling author of The Unhoneymooners and the "delectable, moving" (Entertainment Weekly) My Favorite Half-Night Stand comes a modern love story about what happens when your first love reenters your life when you least expect it…

Sam Brandis was Tate Jones's first: Her first love. Her first everything. Including her first heartbreak.

During a whirlwind two-week vacation abroad, Sam and Tate fell for each other in only the way that first loves do: sharing all of their hopes, dreams, and deepest secrets along the way. Sam was the first, and only, person that Tate—the long-lost daughter of one of the world's biggest film stars—ever revealed her identity to. So when it became clear her trust was misplaced, her world shattered for good.

Fourteen years later, Tate, now an up-and-coming actress, only thinks about her first love every once in a blue moon. When she steps onto the set of her first big break, he's the last person she expects to see. Yet here Sam is, the same charming, confident man she knew, but even more alluring than she remembered. Forced to confront the man who betrayed her, Tate must ask herself if it's possible to do the wrong thing for the right reason… and whether "once in a lifetime" can come around twice.

With Christina Lauren's signature "beautifully written and remarkably compelling" (Sarah J. Maas, New York Times bestselling author) prose and perfect for fans of Emily Giffin and Jennifer Weiner, Twice in a Blue Moon is an unforgettable and moving novel of young love and second chances.
About the Author
---
Christina Lauren is the combined pen name of longtime writing partners and best friends Christina Hobbs and Lauren Billings, the New York Times, USA TODAY, and #1 internationally bestselling authors of the Beautiful and Wild Seasons series, Dating You / Hating You, Autoboyography, Love and Other Words, Roomies, Josh and Hazel's Guide to Not Dating, My Favorite Half-Night Stand, and The Unhoneymooners. You can find them online at ChristinaLaurenBooks.com, @ChristinaLauren on Instagram, or @ChristinaLauren on Twitter.
Praise For…
---
Praise for Twice in a Blue Moon

"Christina Lauren never disappoint, to an almost astonishing degree, but Twice in a Blue Moon portends new depths for the duo that they've only just begun to swim in – and frankly, we can't wait for more."
— Entertainment Weekly

"This emotional, sweet, and surprising novel about first loves and second chances will leave a tender spot in your heart."
— Shondaland

"[The] story… is worth the wait, and the rich family backstories add sweetness... [with] a twist that offers readers something unexpected and new."
— Kirkus Reviews

"The writing duo Christina Lauren have written another entertaining and moving romance, this time crafting a second-chance story about a couple whose intense, youthful holiday fling ends in heartbreak."
— Booklist

"With a then-and-now plot similar to Lauren's Love and Other Words, the writing duo's latest has a youthful voice that may be a good fit for fans of new adult romances."
— Library Journal

"Readers inclined toward narratives of forgiveness will appreciate this story of learning to leave the past in the past."
— Publishers Weekly

"The best-friend writing team known as Christina Lauren never fails to delight. Twice in a Blue Moon is funny and engaging [... and] strikingly poignant."
— BookPage

Praise for The Unhoneymooners

"What a joyful, warm, touching book! I laughed so hard I cried more than once, I felt the embrace of Olive's huge, loving, complicated, hilarious family, and my heart soared at the ending. This is the book to read if you want to smile so hard your face hurts."
— Jasmine Guillory, New York Times bestselling author of The Proposal

"Witty and downright hilarious, with just the right amount of heart, The Unhoneymooners is a perfect feel-good romantic comedy. Prepare to laugh and smile from cover to cover."
— Helen Hoang, author of The Bride Test

"Heartfelt and funny, this enemies-to-lovers romance shows that the best things in life are all-inclusive and nontransferable as well as free."
— Kirkus Reviews (starred review)

"Lauren brilliantly wields familiar rom-com tropes—enemies to lovers, fake marriage, even height differences—to craft a delightful romance that will have readers hanging on every word."
— Publishers Weekly (starred review)

"Sassy and appealing, writing duo Lauren's ( My Latest Half-Night Stand) latest endeavor is sure to please. A perfect read for beach or poolside, this is one hot summer story not to miss!"
— Library Journal (starred review)

"Lauren's (after Josh and Hazel's Guide to Not Dating, 2018) latest is a sexy, hilarious rom-com that offers a look into the bonds of a large Mexican-American family and between twin sisters as well as at whether blood is thicker than water. Readers will laugh out loud… Perfect for fans of Jasmine Guillory and Sally Thorne."
— Booklist

"Lighthearted, laugh-out-loud funny and all too accessible (as the many Torres aunts and cousins keep butting into Ami's and Olive's lives), The Unhoneymooners is delightful. Olive's initial dislike of Ethan, tempered by her slow realization of his good qualities, makes for a charming and enjoyable romance."
— Shelf Awareness

Praise for My Favorite Half-Night Stand

"A funny, sexy page-turner that warns: Keep your friends close and their avatars closer."
— Kirkus Reviews

"This is a messy and sexy look at digital dating that feels fresh and exciting."
— Publishers Weekly (starred review)

"You can never go wrong with a Christina Lauren novel... Yet again, Christina Lauren offer up a delectable, moving take on modern dating with My Favorite Half-Night Stand, reminding us all that when it comes to intoxicating, sexy, playful romance that has its finger on the pulse of contemporary love this duo always swipes right."


— Entertainment Weekly

Praise for Josh and Hazel's Guide to Not Dating

"With exuberant humor and unforgettable characters, this romantic comedy is a standout."
— Kirkus Reviews (starred review)

"In Lauren's hilarious standalone... Lauren finds the perfect balance between charming moments and sultry episodes."
— Publishers Weekly

"Lauren (Love and Other Words, 2018) has penned a hilariously zany and heartfelt novel... the story is sure to please readers looking for a fun-filled novel to escape everyday life with."
— Booklist

"The story skips along…propelled by rom-com momentum and charm."
— The New York Times Book Review

Praise for Roomies

"This book has everything that makes romance novels great: a heroine's journey to self-discovery, a leading man worthy of a woman's love, and plenty of misty tears and full-on belly laughs along the way. Another knockout by Lauren."
— Kirkus Reviews

"Lauren's standalone brims with authentic characters and a captivating plot."
— Publishers Weekly (starred review)

"For decades, the tale of a marriage of convenience that becomes something more has inspired countless romances. With Roomies, Christina Lauren put a fresh, modern spin on the trope with their completely un-put-down-able green card romp…. Lauren masters rom-com banter and plotting, while also reminding us that the best entries in the genre are all about recognizing our own value regardless of relationship status. One of our 10 best romances of 2017. A+."
— Entertainment Weekly