When You Were Older (MP3 CD)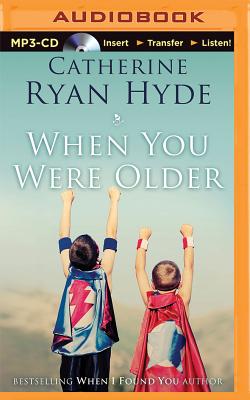 $17.54
Please contact us for more details
Staff Reviews
---
This book is centered around a small town and how they handle the world post 9/11. It tackles family, love, racism, hate, people's reactions to life changing events, and the feeling of having no control over what happens. Although a little short and can be finished quickly it was a very satisfying read.
I think this would be a good book for anyone feeling a little scared or lost in these strange times. Although the book has its heartbreak and sad moments, it is ultimately about hope, optimism, and how to continue living and a world completely changed.
— Savannah P - Katy Budget Books
Description
---
By the bestselling author of Don't Let Me Go, When I Found You, Second Hand Heart, and Pay It Forward, When You Were Older is the poignant, uplifting, and thought-provoking story of two very different brothers who try to build a new life together, against the backdrop of an uncertain and uneasy time in our shared history.
Russell Ammiano works on the 104th floor of the World Trade Center. On the morning of September 11, 2001, the phone rings while Rusty is rushing to work. The news is devastating: Rusty's mother has died of a stroke, leaving his brain-damaged older brother Ben alone. This news also saves Rusty's life. He's still at home when two planes hit the World Trade Center--and only one of his friends and colleagues survives. In a single day, the life Rusty built in New York crumbles to the ground.
Rusty returns to his tiny hometown and the brother he was more than happy to leave behind. Ben hasn't changed a bit, but the town has. Tensions are running high in the wake of the terrorist attack, while Rusty struggles to put the the past behind him and care for the exasperating brother he loves. He finds refuge drinking coffee in the early morning with beautiful Egyptian-American Anat in her father's bakery.
Rusty is beginning to get his life back...until one awful night threatens to take it all away again.