The End of the Day (Hardcover)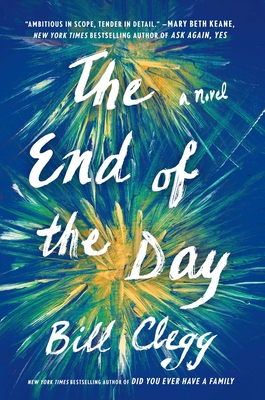 $32.76
Please contact us for more details
Staff Reviews
---
The End of the Day is one of those gentle novels that you don't realize at first is burrowing under your skin. Make no mistake, you know you love it, you just don't know that it's taking up residence deeper and deeper in your bloodstream until it can rip your heart apart inside your chest. At its heart, it's about the choices we make and the ripple effects those have, but also the things we have no choice about at all. I can already tell this is one of those books that will keep niggling at the back of my mind for a long time to come, and I'm embracing it. If you haven't read Bill Clegg, pick up his previous works while you're waiting for this one. You will not regret it, and it will be a nice build to one of the most affecting novels I have read.
— Anna Brown - Katy Budget Books
October 2020 Indie Next List
---
"Bill Clegg gracefully weaves together character-driven vignettes to reveal 60 years of secrets and regrets over the course of a single day. The central characters have known each other since childhood, but while their paths parted ways long ago, the mystery around why is now threatening to come clean. Moving seamlessly from Connecticut to Kauai, from present day to the past, the unbreakable nature of their connections becomes clear. The power in Clegg's writing is his ability to bring uncomfortable situations and characters to life without judgment, allowing them their humanity while not absolving them of guilt. This gentle writing style is what makes The End of the Day an emotionally powerful novel."
— Luisa Smith, Book Passage, Corte Madera, CA
Description
---
"Reading [The End of the Day] is like studying a stained-glass window up close, each piece bright and sharply cut, but when you step back and see it as a whole you discover a large, beautiful, mysterious work of art." —David Ebershoff, New York Times bestselling author of The Danish Girl and The 19th Wife

Following his acclaimed New York Times bestseller, Did You Ever Have a Family, Bill Clegg returns with a deeply moving, emotionally resonant second novel about the complicated bonds and breaking points of friendship, the corrosive forces of secrets, the heartbeat of longing, and the redemption found in forgiveness.

A retired widow in rural Connecticut wakes to an unexpected visit from her childhood best friend whom she hasn't seen in forty-nine years.

A man arrives at a Pennsylvania hotel to introduce his estranged father to his newborn daughter and finds him collapsed on the floor of the lobby.

A sixty-seven-year-old taxi driver in Kauai receives a phone call from the mainland that jars her back to a traumatic past.

These seemingly disconnected lives come together as half-century-old secrets begin to surface. It is in this moment that Bill Clegg reminds us how choices—to connect, to betray, to protect—become our legacy.

Deeply observed and beautifully written, this novel is a feat of storytelling, capturing sixty years within the framework of one fateful day.
About the Author
---
Bill Clegg is a literary agent in New York and the author of the bestselling memoirs Portrait of an Addict as a Young Man and Ninety Days. The author of the novels Did You Ever Have a Family and The End of the Day, he has written for the New York Times, Lapham's Quarterly, New York magazine, The Guardian, and Harper's Bazaar.
Praise For…
---
"Clegg delivers a thoughtful, well-observed story ... The splendid prose and orchestrated maneuvering will keep readers turning the pages and send them back to the beginning, to read it all over again."


— PUBLISHERS WEEKLY, *starred* review

"Written in lyrical, beautiful prose that makes even waking up seem like a poetic event, The End of the Day makes sense of the events of a single day in a compelling work of fiction."
— Good Morning America

"Remarkable… For the beautifully complex characters who populate The End of the Day, whom or what the truth actually sets free is richly called into question. With detail and empathy, Clegg is particularly effective at describing the subtleties of relationships. His work is political without being didactic or dogmatic… he illustrates the elusiveness of the American dream."
— New York Times Book Review

"As usual, Clegg's prose is simple and graceful, his third-person character portraits precise, but his plotting, with its intricate, keen-minded twists give his writing the cumulative effect of poetic ambiguity and mystery. Clegg's first novel was a novel of grief; this is a masterly story of an attempt at righting the misunderstandings of the past that is resonant and true to life's inherent uncertainty."
— Boston Globe

"A declining heiress returns home for the first time in decades, but can't remember why. Her former maid's daughter runs a taxi company in Hawaii. Her aunt is left with a baby whose parents have vanished. Leave it to Clegg to brilliantly bind these threads."


— Entertainment Weekly

"A mesmerizing book about family and memory and friendship and the long arc of life. I've loved every book by Bill Clegg, but The End of the Day might be my favorite because these characters, these quietly remarkable women, remind me of the epic lives hidden within all of us. Reading it is like studying a stained-glass window up close, each piece bright and sharply cut, but when you step back and see it as a whole you discover a large, beautiful, mysterious work of art."

— David Ebershoff, New York Times bestselling author of The Danish Girl and The 19th Wife

"Ambitious in scope, tender in detail, Bill Clegg's The End of the Day is a story that crosses boundaries of age, class, gender. Anyone who has a beating heart will find some part of themselves in this story."
— Mary Beth Keane, New York Times bestselling author of Ask Again, Yes

"Delicate, deeply observed, and deftly crafted, THE END OF THE DAY is a beautiful mosaic of memory, regret, and loss. A triumphant and noble novel."
— Nickolas Butler, author of Shotgun Lovesongs and Little Faith

"In his utterly absorbing and socially trenchant novel, Bill Clegg's vision is both intimate and grand. He paints precise and unerring portraits of his characters and the dynamics of class that inform their lives while at the same time asking sweeping and urgent questions: What is fate? What responsibilities do we bear for the way in which our actions and our passions alter the course of one another's lives? The novel's shattering resonance emerges from its masterful construction. Clegg leads us, and his characters, toward the discovery of long-buried secrets at the same time that he shows us that the facts of a life do not always add up to the truth."
— Marisa Silver, New York Times bestselling author of Little Nothing and Mary Coin

"Lyrical...a moody, atmospheric domestic drama."
— Kirkus Reviews

"In this elegant, touching and beautifully serious novel, Bill Clegg has written characters he seems to have known all his life."
— Alejandro Zambra, author of My Documents

"An exquisitely structured book of reckonings. Clegg is a fearless investigator of the past and how it, no matter how buried we believe it to be, will always rise. The End of the Day left me shaken."
— Peter Orner, author of Maggie Brown & Others

"Intricately plotted… measured pace, slipping smoothly from the life of one character to another and from present to past, revealing how entire lives have been marked indelibly by teenage impulses and mistakes. Though Lupita believes at one point that she is 'safe from the truth,' The End of the Day explains with painful clarity why, in some lives, that can never be."
— BookPage

"Magnetically insightful storytelling. Clegg grasps what is deeply human, from a subtle movement to the spirit in a laugh shared between friends. His diction mirrors the emotional gravity in each scene, which, combined with raw honesty, is what makes his writing so relatable. … Enriching and engrossing, The End of the Day traces the complicated web of connection in a person's life that exposes the deepest, and occasionally darkest, sense of what it means to be human. Love, friendship and the connections that bring us together are the fabric of Clegg's masterful framework of a novel with an impeccable scope and unforgettable characters."
— USA Today

"[An] intricate tale of class and consequence."


— People Magazine