The Warrior's Apprentice 30th Anniversary Edition (Vorkosigan Saga #2) (Paperback)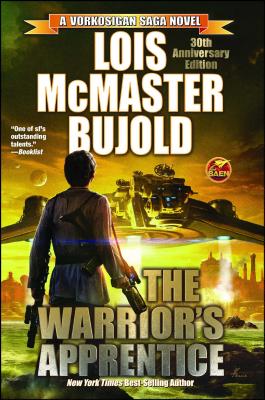 $15.00
Please contact us for more details
Other Books in Series
This is book number 2 in the Vorkosigan Saga series.
Description
---
NEW YORK TIMES BEST-SELLING AUTHOR. NEW EDITION OF THE BOOK THAT STARTED THE VOKOSIGAN SAGA LEGEND. WITH AN ALL-NEW INTRODUCTION BY LOIS MCMASTER BUJOLD!

Discharged from the Barrarayan academy after flunking the physical, a discouraged Miles Vorkosigan takes possession of a jumpship and becomes the leader of a mercenary force that expands to a fleet of treasonous proportions.

With an all-new introduction by Lois McMaster Bujold.

About Lois McMaster Bujold's Vorkosigan Saga:

"The pace is breathless, the characterization thoughtful and emotionally powerful, and the author's narrative technique and command of language compelling. Highly recommended."—Booklist

"[The Warrior's Apprentice] would work just fine. . . as the introduction to the series as a whole. I suspect that anybody who reads one will be as charmed as I was and want to pick up the rest."—SF Site

"If you love solid space opera rooted in strong character, you can't go wrong. . . . The Warrior's Apprentice already displays the craft and the heart which would soon make Lois McMaster Bujold one of the most feted talents in SF."—SF Reviews

About Vorkosigan series entry Diplomatic Immunity:
"Bujold is adept at world-building and provides a witty, character-centered plot, full of exquisite grace notes. . . fans will be thoroughly gripped and likely to finish the book in a single sitting."—Publishers Weekly

The Vorkosigan Series in Story-based Chronological Order
Falling Free
Shards of Honor
Barrayar
The Warrior's Apprentice
The Vor Game
Cetaganda
Ethan of Athos
Borders of Infinity
Brothers in Arms
Mirror Dance
Memory
Komarr
A Civil Campaign
Diplomatic Immunity
Captain Vorpatril's Alliance
CryoBurn
Gentleman Jole and the Red Queen
About the Author
---
A science fiction and fantasy legend, Lois McMaster Bujold has won seven Hugo Awards and three Nebula Awards. Her Miles Vorkosigan saga is a massively popular science fiction mainstay. Her many New York Times bestsellers include series entries Cryoburn, Diplomatic Immunity, and Captain Vorpatril's Alliance. In 2020, Ms. Bujold was named the 36th Damon Knight Grand Master by the Science Fiction and Fantasy Writers of America.