Barron's AP Computer Science A with Online Tests (Paperback)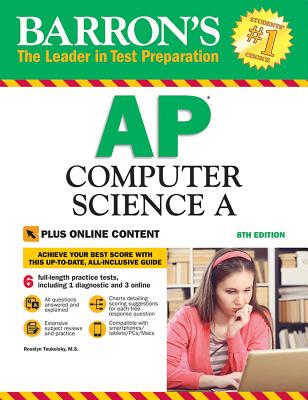 Description
---
Barron's AP Computer Science A with Online Tests is aligned with the current exam curriculum and provides key practice and subject review. This edition reflects the removal of the ClassCastException and downcasting from the AP Java subset, and practice tests include the free-response style used on recent exams.
This edition includes:
Two-full length practice tests in the book
Three additional full-length practice tests online
A diagnostic test to pinpoint strengths and weaknesses so students can focus on areas where they need more study
Answers and explanations for every test question
Charts detailing the scoring suggestions for each free-response question
The content review includes static variables, the List interface, enhanced for loops, the import statement, many questions on 2-dimensional arrays, and a detailed analysis of the binary search algorithm.
About the Author
---
Roselyn Teukolsky has an M.S. degree from Cornell University, and has been teaching programming and computer science since 1980. She has published articles in The Mathematics Teacher and in the National Council of Teachers of Mathematics Yearbook. She is the author of Barron's ACT Math and Science Workbook and co-author of Barron's SAT 1600: Aiming for the Perfect Score. She has received the Edyth May Sliffe Award for Distinguished Mathematics Teaching and the Alfred Kalfus Distinguished Coach Award from the New York State Math League (NYSML).