Such a Quiet Place (Large Print / Library Binding)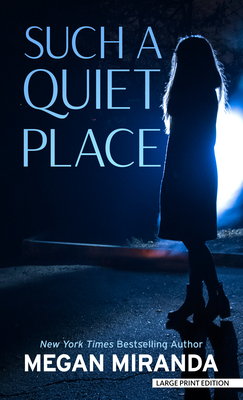 $58.44

Backordered - Availablilty Will be Delayed
Staff Reviews
---
Intriguing, engaging and overall, spectacular!
A fast paced whodunit, covering about 10 days timeframe; summer break for the members of this idyllic neighborhood whose occupants all maintain employment through the local college.
Ruby Fletcher was tried & convicted of killing one couple on her street and sent away; however, the conviction was overturned and Ruby returns to the scenic neighborhood which throws everyone for a loop, including her former housemate.
Secrets are bountiful in this neighborhood & everyone has something to hide & fear. As the days kick off with Ruby's return, tensions build and secrets flush to the surface. This was a fabulous mystery within a mystery and Ruby is a character you will grow to despise.
Did Ruby kill The Truett's? Or was she framed? Everyone is a suspect in this story, can you figure it out?!
— Karen B - Katy Budget Books
July 2021 Indie Next List
---
"A once tranquil suburb is shocked by two horrible deaths. As the accused killer returns to live in the community, its residents are increasingly uneasy. Pick this book up and you won't want to put it down!"
— Jane Stiles, Wellesley Books, Wellesley, MA
Description
---
From the New York Times bestselling author of The Last House Guest--a Reese Witherspoon Book Club selection--comes a new riveting suspense novel about a mysterious murder in an idyllic and close-knit neighborhood. We had no warning that she'd come back. Hollow's Edge used to be a quiet place. A private and idyllic neighborhood where neighbors dropped in on neighbors, celebrated graduation and holiday parties together, and looked out for one another. But then came the murder of Brandon and Fiona Truett. A year and a half later, Hollow's Edge is simmering. The residents are trapped, unable to sell their homes, confronted daily by the empty Truett house, and suffocated by their trial testimonies that implicated one of their own. Ruby Fletcher. And now, Ruby's back. With her conviction overturned, Ruby waltzes right back to Hollow's Edge, and into the home she once shared with Harper Nash. Harper, five years older, has always treated Ruby like a wayward younger sister. But now she's terrified. What possible good could come of Ruby returning to the scene of the crime? And how can she possibly turn her away, when she knows Ruby has nowhere to go? Within days, suspicion spreads like a virus across Hollow's Edge. It's increasingly clear that not everyone told the truth about the night of the Truett's murders. And when Harper begins receiving threatening notes, she realizes she has to uncover the truth before someone else becomes the killer's next victim. Pulsating with suspense and with the shocking twists that are Megan Miranda's trademark, Such a Quiet Place is Megan Miranda's best novel yet--a twisty locked-box thriller that will keep you turning pages late into the night.
About the Author
---
Megan Miranda is the New York Times bestselling author of All the Missing Girls, The Perfect Stranger, The Last House Guest, a Reese Witherspoon Book Club pick, and The Girl from Widow Hills. She has also written several books for young adults, including Come Find Me, Fragments of the Lost, and The Safest Lies. She grew up in New Jersey, graduated from MIT, and lives in North Carolina with her husband and two children. Follow @MeganLMiranda on Twitter and Instagram, @AuthorMeganMiranda on Facebook, or visit MeganMiranda.com.