The Book of Kings: Magnificent Monarchs, Notorious Nobles, and Distinguished Dudes Who Ruled the World (Hardcover)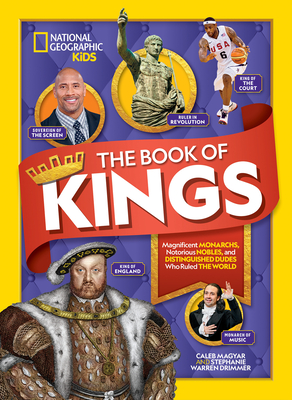 $14.99
In Stock at Our Warehouse - Usually Ships in 1-5 Days
Description
---
Mighty monarchs, powerful presidents, legendary leaders ... discover more than 100 true stories of magnificent men who changed the world.

They're kings wielding scepters and sitting on thrones, they're revolutionaries on the front lines of change, they're presidents and prime ministers leading their nations, or they're CEOs, scientists, sports legends, and artists who rose to the top of their fields. Welcome to The Book of Kings, where being a mighty monarch doesn't just mean wearing a crown. Leaders like these come from all over the globe and have different talents. But most of all? They rule!

Kids are sure to enjoy meeting these mighty men. Some wielded their might for good while others let their power go to their heads. Yet all are (or were) powerful people who changed the course of history. From Henry VIII to Steve Jobs to Lin-Manuel Miranda, and more, every regal ruler in this book showcases the kind of guts, smarts, and strength it takes to lead. And while there are some kings who you might recognize, others may leave you wondering why so many brave, smart, and hardworking people have gone unnoticed ... until now. Whether real-life royals or average Joes who rose to rule, get ready to be inspired by their stories.
About the Author
---
CALEB MAGYAR loves sharing what he learns with others. He has done this as a tour guide in Alaska, a lecturer in college English departments, and most recently as a stay-at-home father. His writerly interests include the future(s) of education, introducing new generations to history, and speculative fiction. This is his first book for National Geographic.

STEPHANIE WARREN DRIMMER writes books and magazine stories for kids. She covers all topics weird and wonderful, including adorable animals, freaky brain experiments, and the hunt for new planets. She is a longtime contributor to National Geographic Kids magazine and has written many books for National Geographic, including most recently Ultimate Secrets Revealed, Hey, Baby!, Mastermind, and The Book of Heroines. Drimmer studied science journalism at New York University.
Praise For…
---
"…This gathering of glitterati covers not just historical heads of state from Akbar to Shaka Zulu, but also fictional ones such as T'Challa of Wakanda… said roster also shows commendable racial and geographic diversity—and even includes queens and other notable women in frequent sidebars… the bright colors and graphics, as well as a plethora of photos, period images, and fanciful but realistically modeled modern portraits, provide plenty of life and visual energy."" — Kirkus


.