Consider It Joy: A Six-Month Guided Bullet Journal (Hardcover)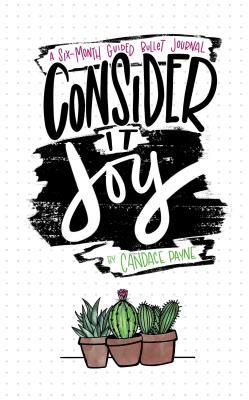 Description
---
Consider It Joy is designed to help people live a life full of joy.

If you have a hard time seeing progress and setting goals in your joy journey, this is for you It's one thing to hope for more joy, and another thing to pursue it. This guided bullet journal is not just a pretty six-month project. It is a place where you can fight and fuss and be as honest as you want about every aspect of your life. It is a toolbox to help you make margin and space for joy every day. It can serve as a gauge for where you are, and a map to chart where you long to be.

Get as crazy and crafty as your inspiration will let you. Just stay the course. Open this journal. And, no matter what happens in these next six months, Consider It Joy.

SPECIAL FEATURES: Beautifully designed full-color interior with high quality paper, wrapped with a stunning spot gloss, debossed, pearlescent cover, ribbon marker, elastic band, and keepsake pocket.
About the Author
---
Candace Payne is an author, speaker and viral sensation. Her 2016 Facebook Live video, which shows her trying on a Chewbacca Mask, holds the record for the most- viewed Facebook Live video in history (170+ million views) and resulted in her becoming internationally known as "Chewbacca Mom." She has been featured in more than 3,000 media outlets including "Good Morning America," " The Late Late Show with James Corden," The New York Times, PEOPLE, and Cosmopolitan. Candace is the author of three books and a small group curriculum. She lives in Texas with her husband, two children, and ornery pugs.