The Accelerati Trilogy, Book One Tesla's Attic (The Accelerati Trilogy, Book One) (Paperback)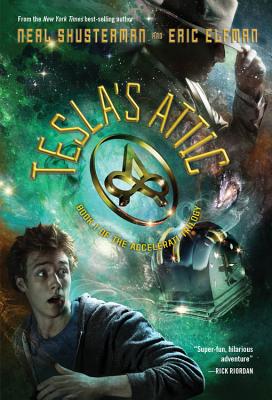 $7.99
In Stock at Our Warehouse - Usually Ships in 1-5 Days
Description
---
After their home burns down, fourteen-year-old Nick, his younger brother, and their father move into a ramshackle Victorian house they've inherited. When Nick opens the door to his attic room, he's hit in the head by a toaster. That's just the beginning of his weird experiences with the old junk stored up there. After getting rid of the odd antiques in a garage sale, Nick befriends some local kids-Mitch, Caitlin, and Vincent-and they discover that all of the objects have extraordinary properties. What's more, Nick figures out that the attic is a strange magnetic vortex, which attracts all sorts of trouble. It's as if the attic itself has an intelligence . . . and a purpose.

Ultimately Nick learns that the genius Nikola Tesla placed the items-his last inventions-in the attic as part of a larger plan that he mathematically predicted. Nick and his new friends must retrieve everything that was sold at the garage sale and keep it safe. But the task is fraught with peril-in addition to the dangers inherent in Tesla's mysterious and powerful creations, a secret society of physicists, the Accelerati, is determined to stop Nick and alter destiny to achieve its own devious ends. It's a lot for a guy to handle, especially when he'd much rather fly under the radar as the new kid in town.

Fans of intrigue, action, humor, and nonstop surprises are guaranteed a read unlike any other in Tesla's Attic, Book One of the Accelerati Trilogy.

Praise for Tesla's Attic

"Lively, intelligent prose elevates this story of teenagers versus mad scientists, the third-person point of view offering a stage to various players in their play of galactic consequence. A wild tale in the spirit of Back to the Future, with a hint of Malamud's The Natural tossed in."--Kirkus Reviews

"This collaboration between Shusterman and Elfman tempers the scarier elements of Nick's quest with deft, humorous writing and plenty of the ordinary adventures of a new kid in school finding his niche. Hand this one to fans of Rick Riordan's Kane Chronicles or Kenneth Oppel's Airborne."--Booklist

* "...Shusterman and Elfman have crafted a plot more devious, characters far quirkier, climaxes (yes, there are two) more breathless, and a narration much, much funnier than recent mad-science offerings. Sticking with a third-person narration frees the authors to be as wryly and sophisticatedly witty as they please without compromising the veracity of their middle-school cast, resulting in storytelling as delightful as the story being told."
-Bulletin for the Center for Children's Books (starred review)
About the Author
---
Neal Shusterman (www.nstoryman.com) is the author of dozens of books for young readers, including the National Book Award winner Challenger Deep, the best-selling Unwind and Skinjacker trilogies, and the critically acclaimed The Schwa Was Here and Downsiders. The other two books in the Accelerati Trilogy, which Neal co-wrote with Eric Elfman, are Edison's Alley and Hawking's Hallway. As a screen and TV writer, Neal created scripts for the "Goosebumps" and "Animorphs" TV series, and he wrote the Disney Channel Original Movie "Pixel Perfect". Neal has two grown sons and he lives with his two daughters in Southern California.
Eric Elfman (www.elfmanworld.com) is a screenwriter, a professional writing coach, and the author of several books for children and young adults, including The Very Scary Almanac and The Almanac of the Gross, Disgusting & Totally Repulsive; three X-Files novels; and two books of scary short stories, Three-Minute Thrillers and More Three-Minute Thrillers. He has sold screenplays to Interscope, Walden Media, Revolution, and Universal Studios. He lives in Brandywine Canyon, California with his wife and son.
Praise For…
---
PRAISE FOR BRUISER
"This is a wrenching but ultimately redemptive look at how pain defines us and how love, whether familial, romantic or friendly, demands sacrifice and brings gifts of its own. Once again, Shusterman spins a fantastic tale that sheds light on everyday life."
—
-Kirkus ReviewsPRAISE FOR UNWIND
"The shocking premise is unveiled immediately, and a nail-biting pace is sustained throughout, with the teens flung headlong into a true life-or-death struggle...these haunting debates will likely linger in the reader's mind even after the riveting plot fades...an ideal blend of philosophy and action set in a compelling futuristic landscape."
—
-The Bulletin of the Center for Children's BooksPRAISE FOR EVERFOUND
* "Shusterman ends his provocative trilogy with a rock-solid adventure that manages to examine deep questions of faith and morality....Rich in detail, with exceptional characterization and shot through with unexpected (and very necessary) humor, this is an engrossing and thoroughly satisfying ending to a unique saga of life after death."
—
-Kirkus Review, starred reviewPRAISE FOR EVERWILD
"Thought-provoking and scary, invoking elements from history and mythology, the novel ends with a shocking event that will leave its fans wanting the next volume immediately."
—
-Horn Book MagazinePRAISE FOR BRUISER
"Shusterman's novel reveals its secrets and their implications slowly, allowing readers to connect the dots before the characters do and encouraging them to weigh the price of Bruiser's gift' against the freedom from pain that Tennyson and Bronte enjoy."
—
-School Library JournalPraise for Tesla's Attic
"Lively, intelligent prose elevates this story of teenagers versus mad scientists, the third-person point of view offering a stage to various players in their play of galactic consequence. A wild tale in the spirit of
Back to the Future
, with a hint of Malamud's
The Natural
tossed in."—
Kirkus Reviews
* "...Shusterman and Elfman have crafted a plot more devious, characters far quirkier, climaxes (yes, there are two) more breathless, and a narration much, much funnier than recent mad-science offerings. Sticking with a third-person narration frees the authors to be as wryly and sophisticatedly witty as they please without compromising the veracity of their middle-school cast, resulting in storytelling as delightful as the story being told."—
Bulletin for the Center for Children's Books (starred review)
"This collaboration between Shusterman and Elfman tempers the scarier elements of Nick's quest with deft, humorous writing and plenty of the ordinary adventures of a new kid in school finding his niche. Hand this one to fans of Rick Riordan's Kane Chronicles or Kenneth Oppel's Airborne."—
Booklist