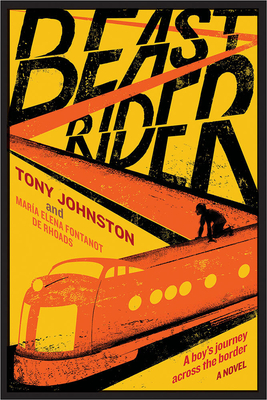 $17.99
In Stock at Our Warehouse - Usually Ships in 1-5 Days
About the Author
---
Tony Johnston is the award-winning author of more than 100 children's books. She lives with her family in San Marino, California.
Maria Elena Fontanot de Rhoads is a Mexican psychotherapist who specializes in childhood trauma. She lives in Mérida, Mexico.
Praise For…
---
**STARRED REVIEW**
"Like the chugging of The Beast, Johnston's poetic prose permeates Manuel's journey and gives a steady rhythm to the story even as Oaxaca-based psychotherapist and translator Fontanot de Rhoads provides details to ground it . . . A beautiful, visceral plunge into the perils that the train-jumping migrant brotherhood experiences."
— Kirkus Reviews
**STARRED REVIEW**
"Johnston (Bone by Bone by Bone) and de Rhoads (a psychotherapist and debut author) offer a sympathetic, illuminating portrait of the challenges faced by one undocumented immigrant."
— Publishers Weekly
"This does not shy away from the brutal realities of Manuel's journey, but it also glories in the kindness and love of strangers, giving this harrowing story a balance of fear and hope . . . A tough yet hopeful immigration story."
— Booklist
"A reflective look at the perils of migration and the powerful, competing calls of family and homeland."
— The Bulletin of the Center for Children's Books
"[Beast Rider] reads like one long poem."
— Susan Goldman Rubin
"Beast Rider, like the best in literature, begs to be read again and again."
— Lisa Krieger, retired head of Children's Services, San Luis Obispo County Library
"This story feels personal and real; it does not romanticize or try to fully tackle the complex issue of immigration. Manuel narrates in a frank, unflinching manner, using a well-crafted combination of short, abrupt thoughts and longer descriptive sentences. Spanish words and phrases are woven expertly throughout the narrative."
— School Library Journal