The Rogue Pirate's Bride (Mass Market Paperbound)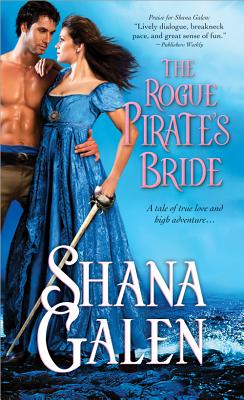 $8.18
Please contact us for more details
Description
---
"Pirates, high-seas adventures and rollicking romance. This one will take readers away from their troubles and give them their own adventure."--Romance Novel News
After his mentor is viciously killed, Bastien Harcourt seeks to avenge his death. But he soon discovers himself astonishingly out of his depth when confronted with a beautiful, daring young woman who is out for his blood.
Revenge is the name of the game for Raeven Russell. The daughter of a British Admiral, Raeven believes Bastien is responsible for her fianc 's death. But once the fiery beauty crosses swords with Bastien, she's not sure she wants him to change his wicked ways.
Fans of Julia Quinn, Sabrina Jefferies, and Lorraine Heath will be spellbound by this fast paced historical romance that combines revenge, adventure, and romance on the high seas.
The Sons of the Revolution Series:
The Making of a Duchess (Book 1)
The Making of a Gentleman (Book 2)
The Rogue Pirate's Bride (Book 3)
What people are saying about RITA Nominee Shana Galen
"Her fast paced, action packed, thrill-seeking adventures that are filled with energy, passion, sensuality, romance and love."--My Book Addiction and More
"Galen creates a lighthearted yet poignant, humorous yet touching, love story -- with original characters who delight and enough sizzle to add heat to a delicious read."--RT Book Reviews
"Tinged with danger and darkness, Galen's sexy and dramatic story has depth thanks to appealing characters with realistic problems and believable chemistry."--Publishers Weekly
"Galen is a grand mistress of the action/adventure subgenre."--RT Book Reviews
About the Author
---
Shana Galen is the bestselling author of fast-paced adventurous Regency historicals. She is a three-time Rita Award finalist (RWA's most prestigious award for published romance fiction) and winner of the coveted RT Reviewer's Choice KISS (Knight in Shining Silver) Award. Shana teaches 7th grade English, is active in RWA, and lives with her family in Houston, Texas.