The Making of a Duchess (Sons of the Revolution) (Mass Market)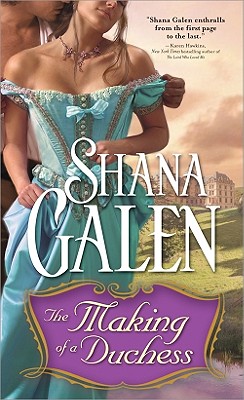 $9.35
Please contact us for more details
Description
---
A very dangerous attraction…and an even more dangerous secret
Julien Harcourt, duc de Valère, is more than willing to marry the lovely young lady his mother has chosen. Little does he know, she's been sent to prove him a spy and a traitor.
Sarah Smith's mission is to find out whether the Duc's trips to the Continent are as innocent as he claims, but the way he looks at her is far from innocent.
Their risky game of cat and mouse propels them from the ballrooms of London to the prisons of Paris, and into a fragile love that may not survive their deceptions.
Equal parts action and passion, readers will be left breathless by this tale of family, espionage and a fragile love story that neither dares to hope for.
The first in RITA nominee Shana Galen's Regency romance trilogy about three brothers struggling to reconnect and restore their noble heritage in the aftermath of the French Revolution, each losing his heart along the way.
Celebrate the 80th birthday of Regency Romance with great books from Sourcebooks Casablanca!
Sons of the Revolution Trilogy:
The Making of a Duchess (Book 1)
The Making of a Gentleman (Book 2)
The Rogue Pirate's Bride (Book 3)
Praise for Bestselling Author Shana Galen:
"An irresistible mix of sexy romance and sharp wit."—Chicago Tribune
"Spirited characters, lively dialogue, breakneck pace, and great sense of fun."—Publisher's Weekly
"Shana Galen will leave you breathless!"—Julianne MacLean, USA Today bestselling author of When a Stranger Loves Me
About the Author
---
Shana Galen is three-time Rita award nominee and the bestselling author of passionate Regency romps, including the RT Reviewers' Choice The Making of a Gentleman. Kirkus says of her books, "The road to happily-ever-after is intense, conflicted, suspenseful and fun," and RT Bookreviews calls her books "lighthearted yet poignant, humorous yet touching." She taught English at the middle and high school level off and on for eleven years. Most of those years were spent working in Houston's inner city. Now she writes full time. She's happily married and has a daughter who is most definitely a romance heroine in the making.
Praise For…
---
"The Making of a Duchess has everything I could ask for--romance... spies... mystery... and even some adventure. " — Linda Banche Romance Author

"Marvelous... the right amount of romance mixed with face-paced adventure" — Readin' and Dreamin'

"A sizzling hot, adventure-filled historical romance." — Romance Junkies

"Romantic, exciting, and sweet. " — The Life and Lies of an Inanimate Flying Object

"Witty, romantic and adventurous... Beautifully paced, full of action, charming dialogue and pure fun. " — Bookfoolery and Babble

"A story filled with adventure, charm, romance and wit." — The Romance Dish

"Intrigue, suspense, and romance wrapped neatly into a delicious story that will keep the reader going until the very last page." — Affaire de Coeur

"A terrific beginning to the series." — The Good, the Bad and the Unread

"Galen has written a fun romance." — Historical Novel Review

"Galen weaves together a story filled with intrigue, mystery, and romance. " — Mrs. Q Book Addict

" This romance with a flair for dynamics and ironic twists kept me thrilled, wanting to lap up the adventure till the very end" — Aisle B

"Galen's trilogy, the stories of lost brothers, begins with a fast-paced, action-packed, cat-and-mouse spy thriller that will leave you breathless. Her engaging characters and strong plotline enhance the spirited dialogue and sense of adventure. 4 Star Review." — RT Book Reviews

"A historical novel filled with intrigue, romance and adventure." — Cheryl's Book Nook

"A fun book full of lively characters." — The Broken Teepee

"Galen did a fabulous job!" — History Undressed

"Plot twists, drama, and suspense... a thoroughly fun historical romance!" — Starting Fresh

"The dialogue, charming wit, the intrigues, and the steamy love scenes in The Making of a Duchess make the novel a page-turner. " — The Long and Short of It

"A highly enjoyable and exciting romance novel." — Laura's Reviews

"The story's concept will draw you in, then the love story begins and you are hooked." — Book Junkie

"Galen strikes the perfect balance between dangerous intrigue and sexy romance in her latest deftly crafted Regency historical. " — Booklist

"This book really hit the spot... Shana Galen has done a wonderful job." — Debbie's Book Bag

"[A] well-written, historical romance with lots of detail, interesting and engaging characters and plots with twists and turns. " — Thoughts From Lady Tess

"Exceptionally entertaining reading with a cast of brilliantly written characters." — Rundpinne

"Galen paints an excellent picture... a wonderfully exciting read." — Jenny Loves To Read

"The love scenes are steamy and authentic, and the characters are well written." — Booksie's Blog

"A delightful historical romance... a fast paced page turner and will you not want to put it down." — My Book Addiction and More