The New Keto-Friendly South Beach Diet: Rev Your Metabolism and Improve Your Health with the Latest Science of Weight Loss (Paperback)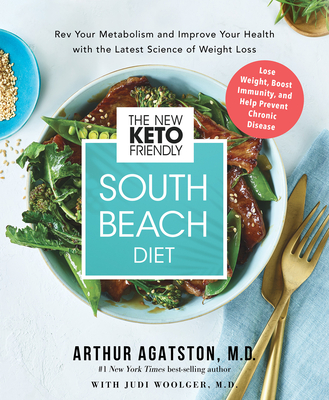 $22.99
In Stock at Our Warehouse - Usually Ships in 1-5 Days
Description
---
Now in paperback: Boost your metabolism and burn 100-500 more calories per day by putting your body into fat burning mode with a new science-backed update to this proven diet. The New Keto-Friendly South Beach Diet combines the good fats and healthy carbs of the world-famous heart-healthy program with the advanced nutrition science of keto--all in a doctor-approved plan that is easier than strict keto diets.

"Arthur Agatston is an expert in the assessment of cardiovascular risk and the many ways to lower one's risk of heart disease and stroke. He has also been a pioneer in helping people improve their dietary and exercise habits to live longer and healthier lives.
-- Roger S. Blumenthal, M.D., Director of The Ciccarone Center for Prevention of Cardiovascular Disease

The original South Beach Diet defined the cutting edge of healthy weight loss. Now the creator of the classic plan combines his signature diet with the latest, most cutting-edge advances in healthy eating that are the basis for the ketogenic diet. With a new emphasis on good carbs, healthy fats, and quality proteins, The New Keto-Friendly South Beach Diet--available in paperback for the first time--takes the powerful fundamentals of the original South Beach Diet and adds the fat-burning principles of keto. Dr. Arthur Agatston cuts through the confusion around keto and low carb diets and gives readers a step-by-step 28-day eating plan that increases satisfaction, decreases appetite, and makes it easy to lose weight and keep it off.

Includes 100 recipes, full-color photos, and an easy-to-follow 28-day meal plan.
About the Author
---
Arthur Agatston, M.D., is an internationally recognized pioneer in cardiac disease prevention. Dr. Agatston worked with Dr. Warren Janowitz to develop the Agatston Score (also called the Calcium Score), a method of screening for coronary calcium as an indicator of atherosclerosis that is used at medical centers throughout the world and considered by most experts to be the best single predictor of a future heart attack. 
Dr. Agatston and colleagues initiated the "Healthy Options in Public Schools" study, which demonstrated that by providing healthy school lunches, combined with an innovative education program in pre-K through grade 6, you can encourage healthy weights and improve blood pressures and standardized test scores in children. This project continues through the "Agatston Urban Nutrition Initiative" at the University of Pennsylvania. 
Dr. Agatston is an associate professor of medicine at the University of Miami Miller School of Medicine and a clinical professor of medicine at Florida International University Herbert Wertheim College of Medicine. He is a member of the American College of Cardiology Nutrition Committee.He is the medical director of The Agatston Center for Private Medicine in Miami Beach where his cardiology practice is focused on preventing heart attacks in high-risk patients. This is also the focus of his continuing research endeavors. 
Known as the author of the internationally best-selling book The South Beach Diet, his first nonacademic work, Dr. Agatston created his balanced approach to healthy eating to help his patients improve their blood chemistries, lose weight, and prevent diabetes and heart disease. Today, the South Beach Diet remains the trusted choice of millions and there are more than 23 million copies of The South Beach Diet and its companion books in print worldwide. Dr. Agatston's most recent book, The South Beach Diet Gluten Solution, was published in 2013. 
Dr. Agatston has published more than 200 scientific articles and abstracts in medical journals and is a frequent lecturer across the U.S. and around the world on diet, cardiac imaging, and the prevention of heart disease. In recognition of his contributions to cardiac prevention, the Society of Cardiovascular Computed Tomography (SCCT) created the prestigious Arthur S. Agatston Cardiovascular Disease Prevention Award in 2011, which is given annually to pioneers in cardiac prevention. He was named as one of the "Time 100" most influential people of 2004. Among his many television appearances, Dr. Agatston was featured along with President Bill Clinton on Sanjay Gupta's 2011 CNN special, "The Last Heart Attack."
Praise For…
---
"Arthur Agatston is an expert in the assessment of cardiovascular risk and the many ways to lower one's risk of heart disease and stroke. He has also been a pioneer in helping people improve their dietary and exercise habits to live longer and healthier lives. His practical approach to improving lifestyle habits has been very valuable to hundreds of thousands of individuals around the world."
— Roger S. Blumenthal, M.D., Director of The Ciccarone Center for Prevention of Cardiovascular Disease

"Every police chief in America knows that cops and other first responders are at higher risk of heart disease because of our poor diets, crazy work hours, and extraordinary stress. I've seen too many cops gain dangerously excessive weight and suffer terrible health consequences. I've worked with Dr. Agatston to find solutions. I am convinced that his diet and medical approach will save lives. I also lost over 30 pounds following his guidance, for which I am forever grateful."
— Daniel Oates, Former Police Chief of Miami Beach 
 
"I have always admired Dr. Agatston's contributions in the areas of healthy nutrition and heart attack prevention. He and I share a concern about the obesity epidemic and a passion for helping people achieve better health. Dr. Agatston's approach to healthy eating is flexible and friendly—it really fits into a busy, active life, like mine! Being a former world-class athlete and fitness advocate, I know the building blocks to a healthy life."
— Dara Torres, 12-time Olympic medalist, 5-time Olympian, mother, New York Times best-selling author, and fitness entrepreneur

"Dr. Agatston has worked for decades to help our communities improve their health, in South Beach and beyond. His diet not only helps people lose weight, but also helps prevent disease and leads to better health overall. I know firsthand how this diet can help you feel better and give you the energy to live your life and pursue your goals."
— Philip Levine, Former Mayor of Miami Beach
 
"Dr. Agatston is a man with a Midas touch, a pioneer in preventive cardiology and medicine. His breakthrough work on identifying early deposition of atherosclerosis has revolutionized how we prevent heart disease. In this fascinating book, Dr. Agatston takes us on a whirlwind tour exploring the complicated mechanisms and consequences of our dietary choices. Our current diet and related obesity are the leading cause for risk of heart disease. What do we do about it? Dr. Agatston, a leading preventive cardiology clinician and scientist, gives us the prescription for how we can detect the early signs of disease years sooner, and how we can change our health outcomes by changing our diets. I strongly recommend his book to all seeking the latest science of weight loss in an easy-to-follow plan that will help people like me achieve a healthy weight, enjoy better health, and ultimately reduce the risk of the number one killer disease in the U.S.: heart disease."
— Khurram Nasir, M.D., M.P.H., M.Sc., Chief, Division of Cardiovascular Prevention and Wellness, Houston Methodist, and Adjunct Associate Professor of Medicine, Yale University