Summer Adventure for Groot! (Hardcover)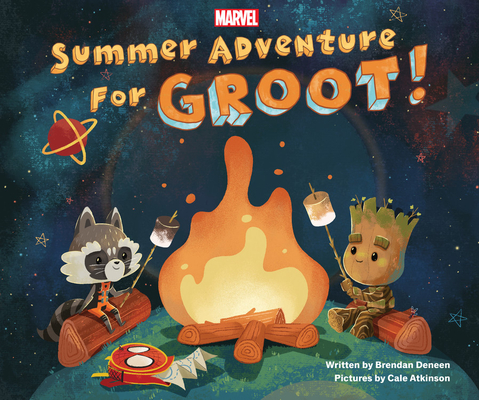 $12.99

In Stock at Our Warehouse - Usually Ships in 1-5 Days
Description
---
The fourth book in the hit Rocket and Groot picture book series, following up to Night Night, Groot, First Day of Groot!, and Snow Day for Groot!

Accept the challenge of this special mission:Map every planet for your expedition!

It's finally summertime! The Guardians of the Galaxy are off on a trip to map the cosmos with plans to see as much as possible in one day. From surfing the waves of Zenn-La and riding a tandem bike on Morag to playing hide-and-seek in Asgard and enjoying a dazzling display of fireworks on Xandar, Rocket and Groot are determined to enjoy all the best activities that summer in space has to offer!
Young readers will be inspired to create their own to-do list for the ultimate summer adventure.
Add these other delightful picture books to your library!
Night Night, Groot
First Day of Groot!
Snow Day for Groot!
Captain Marvel: What Makes a Hero
Captain Marvel: Beware the Flerken!
Spider-Man: Far From Home: Spider-Man Swings Through Europe!
Spider-Man, Spider-Man!
Grow Up, Ant-Man!
Shang-Chi and the Legend of the Ten Rings: Who Guards My Sleep?
About the Author
---
Brendan Deneen is the award-winning author of Night Night, Groot, First Day of Groot!, and Snow Day for Groot!,as well as the all-ages graphic novels Green Arrow: Stranded, Flash Gordon: The Mercy Wars and The Island of Misfit Toys. He is the father of two young daughters, who love jumping in the ocean with him and searching for cool shells on the beach!

Cale Atkinson is an author and illustrator whose titles include Explorers of the Wild, To the Sea, Off & Away, Sir Simon: Super Scarer, and more. When he's not web slinging with Spider-Man or planet skipping with Rocket and Groot, he can be found with his family in Kelowna, British Columbia.