Making Bombs for Hitler (Paperback)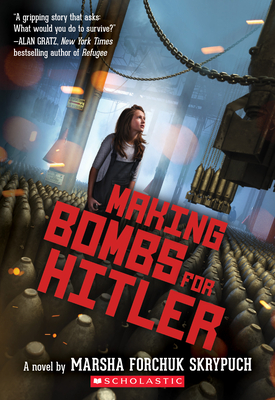 $7.99
In Stock at Our Warehouse - Usually Ships in 1-5 Days
Description
---
For readers who were enthralled by Alan Gratz's Prisoner B-3087 comes a gripping novel about a lesser-known part of WWII.
Lida thought she was safe. Her neighbors wearing the yellow star were all taken away, but Lida is not Jewish. She will be fine, won't she?

But she cannot escape the horrors of World War II.

Lida's parents are ripped away from her and she is separated from her beloved sister, Larissa. The Nazis take Lida to a brutal work camp, where she and other Ukrainian children are forced into backbreaking labor. Starving and terrified, Lida bonds with her fellow prisoners, but none of them know if they'll live to see tomorrow.

When Lida and her friends are assigned to make bombs for the German army, Lida cannot stand the thought of helping the enemy. Then she has an idea. What if she sabotaged the bombs... and the Nazis? Can she do so without getting caught?

And if she's freed, will she ever find her sister again?

This pulse-pounding novel of survival, courage, and hope shows us a lesser-known piece of history -- and is sure to keep readers captivated until the last page.
About the Author
---
MARSHA FORCHUK SKRYPUCH is the author of more than a dozen books, including Dear Canada: Prisoners in the Promised Land, Stolen Child, Making Bombs for Hitler, Underground Soldier and Don't Tell the Enemy. She has won many awards for her work and is one of Canada's most respected authors of historical fiction for young people. Much of Marsha's writing focuses on stories from her Ukrainian heritage, and she has been presented with the Order of Princess Olha by the President of Ukraine and named a Canadian Ukrainian Woman of Distinction. Marsha lives in Brantford, Ontario. Visit her online at www.calla.com.
Praise For…
---
Praise for Making Bombs for Hitler:

"A gripping story that asks: What would you do to survive?" -- Alan Gratz, author of Prisoner B-3087

"Inspired by real, historical accounts, this is a powerful, harrowing story of transformation." -- Booklist

"Skrypuch draws on real-life stories of survivors in telling Lida's poignant tale, and she creates a cast of young people who are devoted to one another in both thought and deed... A well-told story of persistence, lost innocence, survival, and hope." -- Kirkus Reviews

"The story [has a] strong undercurrent of friendship and loyalty; an author's note gives further background on this important piece of history." -- Publishers Weekly

"Students will admire Lida's pluck amid such heinous conditions... An absorbing read about the lesser-known Ukrainian experience during World War II, this is a solid choice for curricular ties and for middle school historical fiction collections." -- School Library Journal

"Skrypuch has written a gripping, emotional novel of one Ukrainian girl's perseverance during the horrors of war... This is a vivid picture of what youth experienced during World War II and the hopelessness of displaced populations of all backgrounds and religions." -- Voice of Youth Advocates

Praise for The War Below:

"The subject matter is powerful and grows occasionally quite intense. A page-turning window into a complex piece of World War II history." -- Kirkus Reviews

"Skrypuch offers a compelling, visceral novel of survival that provides an unusual view of the war and the almost legendary Ukrainian Insurgent Army. . . the suspenseful story carries the reader along to its satisfying conclusion." -- Booklist