Just Like Mother (Hardcover)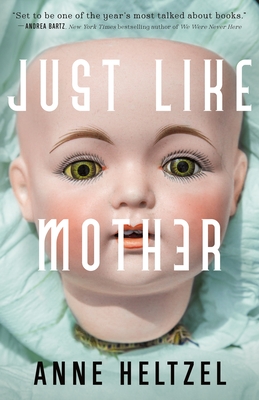 $26.99

In Stock at Our Warehouse - Usually Ships in 1-5 Days
Staff Reviews
---
Phenomenal!
Disturbingly creepy and unsettling, darkness fills every page. It's a story that centers around two cousins raised in an all women's cult and then separated by a raid. Years later, a DNA website reconnects them. Soon the two are trying to fill in the lost gaps of time. Time, however, does not heal all wounds and things in the past? Always come full circle.
Hateful comments, and bitter reminders combined with unsettling demands, leaves one cousin in a horrible predicament.
Toxic relationships, survival and revenge, are just a few of the themes in this outstanding and disturbing story.
— From
Karen's Staff Picks
Description
---
"I tore through this urgent, timely, and deeply disturbing tale."—Andrea Bartz, New York Times bestselling author of We Were Never Here

Spine-chilling and sharp, Anne Heltzel's Just Like Mother is a modern gothic from a fresh new voice in horror, and "will disturb readers to their core." (Library Journal) A GoodReads Choice Award Finalist for Best Horror, and named one of the Best Books of 2022 by LitReactor!

The last time Maeve saw her cousin was the night she escaped the cult they were raised in. For the past two decades, Maeve has worked hard to build a normal life in New York City, where she keeps everything—and everyone—at a safe distance.

When Andrea suddenly reappears, Maeve regains the only true friend she's ever had. Soon she's spending more time at Andrea's remote Catskills estate than in her own cramped apartment. Maeve doesn't even mind that her cousin's wealthy work friends clearly disapprove of her single lifestyle. After all, Andrea has made her fortune in the fertility industry—baby fever comes with the territory.

The more Maeve immerses herself in Andrea's world, the more disconnected she feels from her life back in the city; and the cousins' increasing attachment triggers memories Maeve has fought hard to bury. But confronting the terrors of her childhood may be the only way for Maeve to transcend the nightmare still to come…

"A fierce, frightening novel."—Rachel Harrison, author of Cackle
About the Author
---
ANNE HELTZEL is a New York-based novelist and book editor. In addition to writing horror, she has penned several milder titles for children and young adults. Just Like Mother is her adult debut.
Praise For…
---
GoodReads Choice Award Finalist for Best Horror!
Named one of the Best Books of 2022 by LitReactor!

"Heltzel's novel bursts onto the scene with all the power and gore of a home birth. With unforgettable characters and details that will haunt your dreams, Just Like Mother is set to be one of the year's most talked about books. I tore through this urgent, timely, and deeply disturbing tale....and I'll think of it every time I field an uncomfortable question about my own childless status." —Andrea Bartz, New York Times bestselling author of We Were Never Here

"A fierce, frightening novel that examines autonomy, motherhood, and the dark side of feminine power with savage precision. Just Like Mother is a total thrill ride. Buckle up and be warned — there's no calling for Mommy." —Rachel Harrison, author of The Return

"Tautly paced and sharp as a scalpel, Just Like Mother grabs you by the throat and doesn't let go. This book offers a dark and searing look at the societal expectations placed on women and mothers, and the lengths some will go to meet them. I devoured this book." —Erin A. Craig, New York Times bestselling author of House of Salt and Sorrows

"As compulsively readable as it is genuinely terrifying, Just Like Mother expertly weaves together themes of motherhood, trauma, and the perversion of feminism. It will sink its teeth into you as much for its incisive social commentary as for its deliciously gruesome horror." —Jessie Gaynor, author of The Glow

"Eerie, fast-paced ... Heltzel's probing exploration of women's bodily autonomy—or lack thereof—makes this a solid choice for those who like their horror close to home." —Publishers Weekly

"A fast-paced, creepy, and unpredictable adventure that shines an unsettling light on motherhood and family ties. A page-turner from start to finish." —Booklist

"Flooded with visceral dread from the first scene and never letting up, Heltzel's tale will disturb readers to their core." —Library Journal

"Heltzel's writing keeps the reader glued to the page." —Strange Horizons

"Heltzel takes readers on a timely psychological journey that explores women's rights, pregnancy, and the long-lasting effects of patriarchal power and domesticity."—LitReactor

"A modern nod to Rosemary's Baby with a decidedly feminist slant....Heltzel brilliantly explores the intense pressure on women to become mothers." —Electric Literature

"Twisted, elegantly macabre, and brilliantly subversive, Just Like Mother delivers a searing commentary on the damage done to women by putting motherhood on a pedestal and equating feminine identity with bearing children. It got under my skin in the very best way; I'll be thinking about it for weeks (especially at night)." —Lana Harper, New York Times bestselling author of Payback's a Witch

"Full of dark secrets and even darker deeds, Just Like Mother grabbed me from the start. Heltzel has tapped into a deep-rooted and disturbing cultural nightmare." —Nicholas Kaufmann, bestselling author of The Hungry Earth

"An astonishing, chilling meditation on the sharp-toothed joys of motherhood." —Livia Llewellyn, Edgar Award-winning author

"A visceral and disturbing ride, Just Like Mother dives deep into the extremes of feminism and motherhood through the lens of true horror. Anne Heltzel is a master." —Amy Lukavics, author of Daughters unto Devils

"A chilling look at modern motherhood, friendship, and what it means to be a woman. I thought about it long after reading the last page." —Danielle Vega, author of The Merciless and The Haunted

"Totally addictive. Twisty, dark, impossible to put down ... a classic, down and dirty horror, ferrying a damaged, winningly prickly heroine ever further into the realms of her deepest fears. I was terrified and obsessed." —Anna Godbersen, New York Times bestselling author of The Luxe series

"Lyrical and grotesque, Just Like Mother is written in gorgeous and shattering prose." —CrimeReads