Miss Austen: A Novel of the Austen Sisters (Paperback)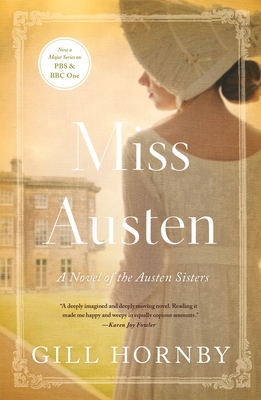 $16.99

In Stock at Our Warehouse - Usually Ships in 1-5 Days
Description
---
A #1 International Bestseller

"A deeply imagined and deeply moving novel. Reading it made me happy and weepy in equally copious amounts." —Karen Joy Fowler

"You can't help feeling that Jane would have approved." —The Guardian

For fans of Jo Baker's Longbourn, a witty, wonderfully original novel about Cassandra Austen and her famous sister, Jane.

Whoever looked at an elderly lady and saw the young heroine she once was?

England, 1840. Two decades after the death of her beloved sister, Jane, Cassandra Austen returns to the village of Kintbury and the home of her family friends, the Fowles. In a dusty corner of the vicarage, there is a cache of Jane's letters that Cassandra is desperate to find. Dodging her hostess and a meddlesome housemaid, Cassandra eventually hunts down the letters and confronts the secrets they hold, secrets not only about Jane but about Cassandra herself. Will Cassandra bare the most private details of her life to the world, or commit her sister's legacy to the flames?

Moving back and forth between the vicarage and Cassandra's vibrant memories of her years with Jane, interwoven with Jane's brilliantly reimagined lost letters, Miss Austen is the untold story of the most important person in Jane's life. With extraordinary empathy, emotional complexity, and wit, Gill Hornby finally gives Cassandra her due, bringing to life a woman as captivating as any Austen heroine.
About the Author
---
Gill Hornby is the author of the novels The Hive and All Together Now, as well as The Story of Jane Austen, a biography of Austen for young readers. She lives in Kintbury, England, with her husband and their four children.
Praise For…
---
Praise for Miss Austen

"The great joy of Miss Austen is that the reader feels immersed in a world that is convincingly Jane's from the first page…It's also extremely funny…Miss Austen is a novel of great kindness, often unexpectedly moving, with much to say about the status of 'invisible' older women. Above all, it's concerned with the triumph of small acts of goodness; you can't help feeling that Jane would have approved."
—The Guardian

"A persuasive portrait of that bane of scholars and biographers…Hornby depicts a romance that could have emerged from an Austen novel and a number of real-life characters whose traits Austen may have borrowed for her fiction."
—The New York Times Book Review

"A delightfully astute reimagining…The Jane revealed by the letters, and by Cassandra's own memories, is as witty and mischievous as we'd expect. But she's also self-absorbed and petulant…Heresy? Not at all. It's a persuasive picture of a brilliant woman who's often derailed by her domestic duties but driven to write regardless."
—Wall Street Journal

"Sure to enthrall Janeites…Like Austen's cunning social satires, Hornby's novel works on multiple levels…Miss Austen celebrates not just Virginia Woolf's room of one's own, but a home of one's own—and the joys of female companionship…Continues to twist and turn deliciously."
—Christian Science Monitor

"Engaging…Lovely… Hornby whips fact, romance and a little Gothic mystery into an imaginative compote that's bound to satisfy those who hunger for more servings of Austen, and those who just enjoy a good tale. She channels Austen's wry take on women in society, with a dash of ageism to boot."
—Minneapolis Star Tribune

"Without romanticizing its period setting or underplaying the precariousness of any woman's position in this society, [Miss Austen] celebrates unexamined lives, sisterhood and virtues such as kindness and loyalty."
—Sunday Times (UK)

"A beguilingly persuasive book that no Austen fan will want to miss."
—Readers Digest

"Jane Austen's sister Cassandra takes centre stage in this engrossing novel that portrays what 19th Century life was like for an unmarried woman of limited means."
—Good Housekeeping

"A warm and fascinating story…Gill Hornby has written Miss Austen with compassion, wisdom, an observant eye, and a great deal of humor — sardonic and otherwise. Miss Austen is a novel that could well take its place on the bookshelf beside one of Jane Austen's own."
—Washington Independent Review of Books

"Exceptionally well written in a distinctively effective and narrative driven storytelling style, Hornby does full literary justice to one of literature's most enduringly popular novelists…Unreservedly recommended."
—Midwest Book Review

"In this subtle and delicate novel, Gill Hornby has created a clever, warm hearted character in Cassandra, Jane Austen's sister."
—Women & Home

"Gill Hornby weaves a magnificent work of the imagination, a pastiche of Regency style and manners, fabricating a solution to a problem that has long mystified scholars…Hornby's portrayals of Cassandra and Jane are tantalizing…All devotees of Austen's novels will want to join Hornby, and Cassandra, in this enjoyable act of piety to Jane."
—The Spectator

"Tender and touching…Hornby deftly describes the psychological toll that such uncertainly took on Jane, and movingly celebrates the fortitude of Cassandra whose greatest love was her sister."
—Daily Mail

"This is the perfect book to wrap yourself around on a dark night."
—Stylist

"What a delightful novel this is!…Gill Hornby has made a fine stab at re-creating [Jane Austen's] luminous prose in her letters…A most entertaining read."
—Historical Novel Society

"For readers who enjoy Austen's novels and wish to know more about her life and for those seeking excellent English historical fiction."
—Library Journal (starred review)

"Hornby strikes gold in the much-mined terrain of Jane Austen–inspired fiction…Cassy is convincingly sympathetic in her effort to preserve her sister's reputation, and a focus on female relationships and mutual support adds unexpected tenderness. Echoing Austen's sardonic wit and crisp prose without falling into pastiche, Hornby succeeds with a vivid homage to the Austens and their world."
—Publishers Weekly

"Austen fans will enjoy Hornby's nuanced, fresh portrayal of Jane…Cassandra herself is similarly fascinating, a woman who never ceases her efforts to carve out a life of her own in a world that is not kind to unmarried women…A worthy addition to most collections."
—Booklist

"Hornby's gift to the world of Austen lovers is to return to Cassandra her rightful recognition as Jane's most intimate and sustaining relationship, her greatest love. This is a deeply imagined and deeply moving novel. Reading it made me happy and weepy in equally copious amounts."
—Karen Joy Fowler, author of The Jane Austen Book Club and We Are All Completely Beside Ourselves

"Unputdownable. So good, so intelligent, so clever, so entertaining—I adored it."
—Claire Tomalin, author of Jane Austen: A Life

"Extraordinary and heart-wrenching, Miss Austen transported me from page one. A remarkable novel that is wholly original, deeply moving, and emotionally complex. A gift to all Austen lovers."
—Lara Prescott, author of The Secrets We Kept

"Gill Hornby places Cassandra center stage and ingeniously imagines what her own life might have been like—an approach which casts a different light on the familiar biographical picture without in any way distorting it."
—Deirdre Le Faye, editor of Jane Austen's Letters

"I've seldom enjoyed any Austen-centered book so much as this. Affecting and thought-provoking, it makes you think about both the Miss Austens in a new light."
—Helena Kelly, author of Jane Austen, the Secret Radical

"A joy from the prologue to the author's note. Rich in historical detail, family lore, and heart, Miss Austen will wow Janeites and enchant the uninitiated. Upon her sister's death, Cassandra claimed that she was 'the sun of my life.' Now we know why."
—Laurel Ann Nattress, editor of Jane Austen Made Me Do It

"Fans of Austen will rejoice in the chance to enter this fictional world and spend time with the extended Austen family as Cassandra and Jane navigate the demands of her genius and temperament in the face of the many pressures single women have endured throughout history."
—Natalie Jenner, author of The Jane Austen Society

"Hornby's writing style closely resembles that of its famous subject, with charm radiating off the pages. Miss Austen is a heartfelt, humorous, insightful peek into an intimate relationship that is worthy of attention…It tackles the subjects of class, gender, and duty, and offers a modern outlook on the feminist idea of women charting their own courses."
—Woodbury Magazine