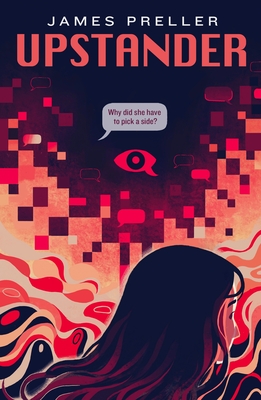 $16.99
Please contact us for more details
Description
---
Girl bullies, internet bullying, and substance use are themes in this James Preller middle grade standalone companion to Bystander

Mary O'Malley is tired of keeping secrets. Secrets like her older brother, Jonny's, drug use. Starting seventh grade is tough enough without the upheaval her brother is bringing to their family.

It seems the only person who might understand is Griffen Connolly, whose older sister runs with Jonny in the wrong crowd. Mary thought Griff was too cool, too popular for her. But now he wants to hang out with her, and listen.

When two girls Mary thought were her friends decide to slam another girl online, Mary tries to look the other way. Then the girls turn on Mary, and suddenly, she doesn't have a safety zone. Her brother is out of control, her family's energies are all spent on him. There is only one person she can turn to. But can she trust Griff? Or is he one of the bullies?
About the Author
---
James Preller is the author of the popular Jigsaw Jones mystery books, which have sold more than 10 million copies since 1998. He is also the author of Bystander, named a 2009 Junior Library Guild Selection, Six Innings, an ALA Notable Book, and Mighty Casey, his own twist on the classic poem, "Casey at the Bat." In addition to writing full-time, Preller plays in a men's hardball league and coaches Little League. He compares coaching kids to "trying to hold the attention of a herd of earthworms." He lives in Delmar, New York with his wife, three children, cats and dog.
Praise For…
---
"In a companion volume that intertwines with his Bystander (2009), Preller offers further examples of bullying—including cyberbullying—from, this time, a female perspective. ... Along with plenty of fodder for reflection and discussion, there is no tidy resolution here, only a sense that problems with no easy answers are best addressed by learning from mistakes and never losing hope."— Booklist

Praise for Bystander:

"Preller has perfectly nailed the middle school milieu, and his characters are well developed with authentic voices." —School Library Journal, starred review

Praise for Blood Mountain:

"Set over six days, this harrowing survival story follows two siblings as they struggle to stay alive in the wilderness. ...Chock-full of suspense and real-life danger, the story moves quickly...and Preller deftly maintains the question of their survival. ...[F]ans of Gary Paulsen's books will likely be hooked from page one."--Publishers Weekly

"Combine a strenuous hike in an unfamiliar wilderness park, lost kids, a dangerous hermit, a rogue mountain lion, a faithful dog, and a savvy female ranger and you have the gist of Preller's exciting thriller. ...Preller combines brave characters with vivid descriptions of the perilous mountain, grasping readers' emotions in the same way as Gary Paulsen's Hatchet series. — Booklist

"A simple family hike unexpectedly becomes a six-day struggle for survival for two children and their dog. ...The result is a page-turning adventure... Readers walk in characters' footsteps thanks to the vividly realized setting. ... A thrilling purchase for middle grade collections; perfect for fans of adventure novels by Jean Craighead George, Peg Kehret, and Gary Paulsen."--School Library Journal

"The third-person narration floats inventively from the perspectives of the children to a potentially threatening but visibly traumatized military vet lurking in the mountains to Makayla, a nature-loving ranger from Brooklyn, to some elegantly anthropomorphized natural elements surrounding the story, which gives this survival story a unique sense of the mountain as omniscient storyteller. "--Bulletin of the Center for Children's Books

"For diehard fans of wilderness survival."--Kirkus Reviews