The Queen of Crows (The Sacred Throne #2) (Paperback)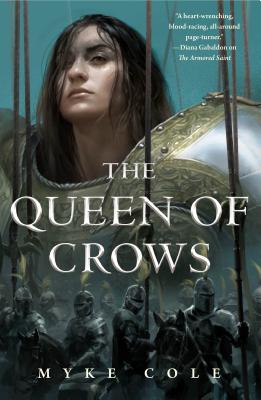 $14.99
In Stock at Our Warehouse - Usually Ships in 1-5 Days
Other Books in Series
This is book number 2 in the The Sacred Throne series.
Description
---
Myke Cole, star of CBS's Hunted and author of the Shadow Ops series returns with book two of the Sacred Throne Trilogy: The Queen of Crows.
In this epic fantasy sequel, Heloise stands tall against overwhelming odds—crippling injuries, religious tyrants—and continues her journey from obscurity to greatness with the help of alchemically-empowered armor and an unbreakable spirit.
No longer just a shell-shocked girl, she is now a figure of revolution whose cause grows ever stronger. But the time for hiding underground is over. Heloise must face the tyrannical Order and win freedom for her people.
"A heart-wrenching, blood-racing, all-around page-turner. Spare, vivid and surprisingly sensual, with a small, fierce heroine who will stick in your mind and live in your soul."—Diana Gabaldon on The Armored Saint
The Sacred Throne Trilogy
#1 The Armored Saint
#2 The Queen of Crows
About the Author
---
MYKE COLE is a devoted comic fan and voracious fantasy reader who never misses his weekly game night. His fandoms range from Star Wars to military history. He's a former kendo champion and heavy weapons fighter in the Society for Creative Anachronism. At the D&D table, he always plays paladins. After a career hunting people in the military, police, and intelligence services, Cole put these skills to good use on CBS's hit show Hunted. Author of the Shadow Ops series and the Sacred Throne Trilogy, which begins with The Armored Saint, Cole lives in Brooklyn, New York.
Praise For…
---
"A heart-wrenching, blood-racing, all-around page-turner. Spare, vivid and surprisingly sensual, with a small, fierce heroine who will stick in your mind and live in your soul."—Diana Gabaldon on The Armored Saint

"Ruthless and heartwrenching." —Robin Hobb
"Cole weaves... a fantasy world that feels comfortably familiar, then goes to places you'd never expect. You won't stop turning pages until the stunning finish." —Peter V. Brett
"Brutal and lovely—an inventive and poignant fantasy that's rich with keen characters, set in a vivid, fascinating world." —Cherie Priest
"A dark fantasy tale with sharp teeth and a hard punch. Heloise is the hero we need, and Myke Cole is the writer to bring her transformation to light." —Chuck Wendig
"Intelligently written, fun, and brutal in equal measures." —Mark Lawrence
"Heloise is a wonderfully complicated character, and her unique dilemma will endear her to readers. The society that Cole creates in the book is unlike any other." —Booklist, starred review