The Look-Alike: A Novel (Hardcover)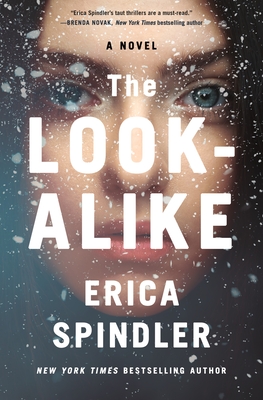 $32.75
Backordered - Availablilty Will be Delayed
Staff Reviews
---
I could not put The Look-Alike down. I loved the interplay between Sienna wondering if she was meant to be the victim and fearing she's suffering her mother's mental illness. I love the layers of the story; it's so much more than the story of a murder. And as a romance reader, I loved the romance subplot, much as I wished there was space for more development.
I had some ideas about who the murderer might be, but I couldn't narrow it down to just one. All the characters are complex and developed enough you could see how it might be them.
If you're into thrillers, murder mysteries, or psychological suspense, this one's for you. It reads fast, too, so it's a great mom read.
— Anna Brown - Katy Budget Books
Description
---
From Erica Spindler, the New York Times bestselling author of The Other Girl and Justice for Sara comes The Look-Alike, a thrilling psychological drama about a woman who believes she escaped a brutal murder years ago—but does anyone else believe her?

Sienna Scott grew up in the dark shadow of her mother's paranoid delusions. Now, she's returned home to confront her past and the unsolved murder that altered the course of her life.

In her mother's shuttered house, an old fear that has haunted Sienna for years rears its ugly head—that it was she who had been the killer's target that night. And now, with it, a new fear—that the killer not only intended to remedy his past mistake—he's already begun. But are these fears any different from the ones that torment her mother?

As the walls close in, the line between truth and lie, reality and delusion disintegrate. Has Sienna's worst nightmare come true? Or will she unmask a killer and finally prove she may be her mother's look-alike, but she's not her clone?
About the Author
---
New York Times bestselling author Erica Spindler has written many novels, including Breakneck, Blood Vines, Watch Me Die, Bone Cold, In Silence and Last Known Victim. Her books are published in 25 countries. Raised in Rockford, Illinois, Spindler planned on becoming an artist, and earned visual arts degrees from Delta State University and the University of New Orleans. But one day in 1982, she picked up a romance novel and was immediately hooked. She soon tried to write her own romance, but it was when she leapt from romance to suspense that she found her true calling. Spindler has won the prestigious Daphne du Maurier Award for excellence, the Kiss of Death Award, and has been a three-time RITA Award Finalist. She lives just outside New Orleans, Louisiana, with her husband and two sons.
Praise For…
---
Praise for The Look-Alike

"In a word: riveting. An intense psychological thriller about love, betrayal, mental illness, and fear; a twisty, atmospheric suspense that will have you questioning the troubled heroine and flipping pages to find out what happened. Spindler is at the top of her game." - Allison Brennan, New York Times bestselling author

"Twisty plots, chilling suspense, true-to-life characters--Erica Spindler's taut thrillers are a must read." - Brenda Novak, New York Times bestselling author

"Spindler keeps the pages turning with a taut plot and multiple suspects who appear suspicious right up to the end." - Library Journal starred review

Praise for The Other Girl
"[A] superlative romantic thriller. … Multidimensional characters with a plethora of hidden agendas help drive the riveting plot to its explosive conclusion." —Publishers Weekly (starred review)

"An amazing thriller that has everything readers have come to expect from one of Spindler's novels. With twists and turns around every corner, you will be hanging on to the edge of your seat to find out what happens next. The characters are so complex that readers will be surprised at what they are hiding beneath their exteriors. A fantastic thriller from one of the best in the genre!" —RT Reviews

Praise for The First Wife
"[A] heated romantic thriller…strong personalities make for some wonderfully tense revelations."—Publishers Weekly

"Spindler hooks readers into her latest… the mystery is engaging."—RT Book Reviews

"This one had me stumped. You think one thing but then it takes a turn you never saw coming. Erica Spindler is a master, her stories will always take you for a ride and never do they disappoint. If you are ever looking for a good too honest thriller look no further than this one or any of Erica Spindler's novels."—A Southern Girl's Bookshelf

Praise for Justice for Sara
"As Kat's investigation deepens, risks multiply; knotted threads, inevitably about money, gradually untangle; and Spindler suspensefully strips away layers of deceit and guilt, revealing years of secrets and silences. Diverting and entertaining." – Booklist

"A 27-year-old woman's quest to uncover the truth behind her sister's murder propels this spine-tingling romantic thriller…With red herrings aplenty, Spindler keeps the reader guessing until the last page." – Publishers Weekly

"Spindler's chilling novels explore our deepest fear – that danger is closer than we think. She is a master of addictive suspense." – Lisa Gardner, #1 New York Times bestselling author

"Justice for Sara is not only a chilling, close-to-home suspense filled with riveting flashbacks, it's also the story of a complex and compelling relationship between sisters. The emotions and revelations drew me right in and kept me hooked." – Andrea Kane, New York Times bestselling author of The Line Between Here and Gone

"Justice for Sara is a tour-de-force novel of suspense – a small-town murder with a big city twist. Spindler's pitch perfect characters and elegant plotting propel the story, and you'll stay up all night reading and beg for more. This is Spindler at her very best: deep, dark and daring." – JT Ellison, bestselling author of Edge of Black

"Spindler's latest does a fantastic job of switching viewpoints and time periods, unraveling the mystery and revealing long-held secrets. The cast of suspects is unique and entertaining, and the small-town setting has an atmospher­ic quality that ramps up the tension." – RT Book Reviews (4 ½ stars / Top Pick)