I Do Not Trust You: A Novel (Hardcover)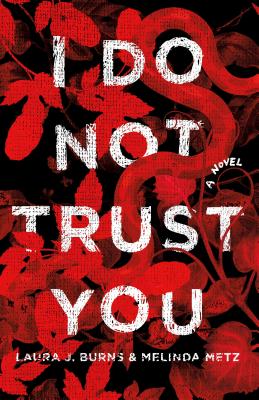 $22.22

Backordered - Availablilty Will be Delayed
Description
---
With Laura J. Burns and Melinda Metz's signature plot twists, and uneasy, ever-changing alliances, I Do Not Trust You is a thrilling journey at every turn that asks—what would you do to save the ones you love?

Memphis "M" Engel is stubborn to a fault, graced with an almost absurd knowledge of long lost languages and cultures, and a heck of an opponent in a fight. In short: she's awesome.

Ashwin "Ash" Sood is a little too posh for M's tastes, a little too good looking, and has way too many secrets. He desperately wants the ancient map M inherited from her archeologist father, believing it will lead him to a relic with the power to destroy the world. M obviously can't trust him.

Equally desperate to find the relic for reasons of her own, M forms an uneasy partnership with Ash. From the catacombs of Paris, to a sacred forest in Norway, to the ruins of a submerged temple in Egypt, together they crisscross the globe in their search. But through it all, M can never be sure: Is she traveling with a friend or enemy?
About the Author
---
Laura J. Burns has written more than forty books for kids and teens, touching on topics from imaginary lake monsters to out-of-control Hollywood starlets (they have more in common than you might think). With Melinda Metz, she has also written for the TV shows ROSWELL, 1-800-MISSING, and THE DEAD ZONE. Laura lives in New York with her husband, her kids, and way too many pets.

Melinda Metz is the author of over 75 books for kids and teens, including the Roswell High series, basis of the TV show Roswell. She often teams up with the lovely and talented Laura J. Burns; together they wrote the Edgar Award nominee Wright and Wong: Case of the Nana-Napper, and YA thrillers Sanctuary Bay and The Lost Map of Secrets and Chaos. Melinda's first adult book, Talk to The Paw, launched the series. She lives in North Carolina with her dog, Scully, who isn't as well-behaved as her namesake.
Praise For…
---
"Thrills and suspense await readers in this high-stakes adventure, the latest collaboration by Burns and Metz...the inclusion of supernatural elements will entice fans of Indiana Jones and Dan Brown's The Da Vinci Code (2003)." -- Booklist

"Memphis is a searingly intelligent and endearingly gutsy female protagonist, and the evolution of her relationship with Ash unravels both artfully and believably... [an] entertaining novel." - Kirkus

"[A] white-knuckle read that pushes envelopes and makes the reader question everything." —USA Today's Happily Ever After blog on Sanctuary Bay

"A quickly captivating account of an outsider's new life inside a world of prestige, pleasure, and pain and her struggle to find acceptance and herself and to survive." —School Library Journal on Sanctuary Bay

"This mash-up of private-school lit meets mystery novel meets conspiracy theory should keep readers guessing as the horror continues to mount." —Booklist on Sanctuary Bay