God's Hand On My Shoulder: From WWII Bomber Pilot to Building Churches in Mexico (Paperback)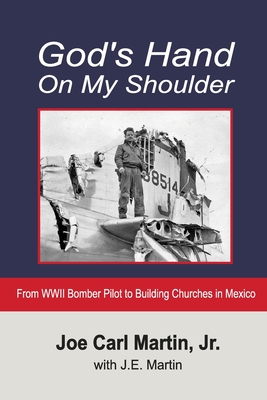 $16.99
In Stock at Our Warehouse - Usually Ships in 1-5 Days
Description
---
GOD'S HAND ON MY SHOULDER is the true story of Joe Carl Martin, Jr., an ordinary man of extraordinary faith. His story is one of quiet courage and great humility, from the Great Depression through World War II to building churches in Mexico.
After joining the United States Army Air Corps during his second year of college, Martin went through basic training followed by flight school to learn how to fly a B-17 bomber in World War II. After earning his wings as a 2nd Lt., he was promoted to the rank of 1st Lt. and Airplane Commander and was assigned to the 349th Bomb Squadron of the 100th Bomb Group at Thorpe Abbotts Air Base in England.
One of the home-bound veterans of the air war said that the 100th was a hard luck outfit. It was known as the "Bloody 100th" because the Luftwaffe had a vendetta against the group, repeatedly singling it out for attack. For 1st Lt. Joe Carl Martin, Jr., and his crew, that attack would occur on 7 April 1945.
"When I was in flight school, our theory of flight instructors explained the rule in physics that governs why an airplane must have a tail to fly. I didn't question their wisdom then. But less than a year later, on 7 April 1945, God made an exception to the rule for nine very lucky airmen." Lt. Col. Henry Cervantes, USAF (Ret., Strategic Air Command) (former copilot of the B-17 E-Z Goin' piloted by 1st Lt. Joe Carl Martin, Jr., on their 25th mission after they were rammed by a German Me-109 during WWII)