Bye Felipe: Disses, Dick Pics, and Other Delights of Modern Dating (Paperback)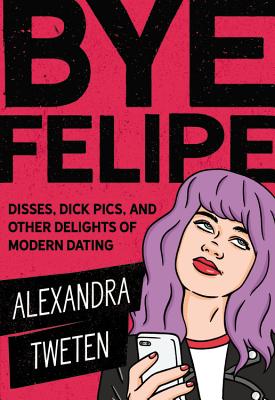 $15.99
Please contact us for more details
Staff Reviews
---
I'm a little bit salty that this book wasn't longer. I know there is so much more that can be said about the heinous acts of men on the internet. I love the social commentary of this book. It has gotten a lot of flack as just a feminist rant outing men for their uncontrollable urges, but like honestly why shouldn't it be that? Women shouldn't have to deal with the kind of atrocities illustrated in this book, and I really admire how the author encourages women to stand up and be loud, normalizing the discussion until it is no longer necessary.
— Caty Christy - Katy Budget Books
Description
---
From the creator of the viral Instagram account comes an empowering guide to navigating the hazards and horrors of online dating.

After one too many hostile dating app encounters, Alexandra Tweten set up the Instagram account @ByeFelipe, a place for women to protest the horrors of online dating, and to share stories and screenshots of their own experiences. Three years later, the account has become a forum where women can fight back against the men who have made them uncomfortable, scared, and embarrassed -- and to laugh at the appalling men they encounter.

The name of Bye Felipe is a nod to the "Bye Felicia" meme, which Urban Dictionary defines as a cool dismissal of a noxious person. In that spirit, the book helps women navigate the perils that come with swiping right and provides practical steps to overcome the harassment rampant in the dating app ether. Blending humor, feminist theory, and solidarity, this "field guide" provides profiles of the worst types of guys (also known as "Felipes") -- from the classic fat shamer to the mansplainer to the surprise sociopath -- answers questions like "How do I react when a guy sends me a dic pic?," and gives women the tools they need to take control of their dating life. With stories, screenshots, and Riot Grrrl-esque graphic art throughout, Bye Felipe empowers women to stand up for themselves and uphold the confidence and self-worth Felipes try so desperately to steal.
About the Author
---
Alexandra Tweten is the creator of ByeFelipe and has been called a "Feminist-Tinder-Creep-Busting Web Vigilante." She has been featured in national media outlets including the New York Times, Huffington Post, the Guardian, and Cosmopolitan, and has recently appeared on Good Morning America and Nightline. Tweten is the subject of the forthcoming short-form documentary #Internetfamous and has spoken at the L.A Museum of Broken Relationships. She lives in Los Angeles, California.
Praise For…
---
Bye Felipe is the dating equivalent of a life vest for women! What a relief to have an honest, pragmatic and often hysterically funny guide to navigating being a 'Woman on the Internet.' It would be harder to find a more vivid, compelling and on-point discussion of the nature of gender and sexual relations today."
—Soraya Chemaly, author of Rage Becomes Her: The Power of Women's Anger

Funny, upsetting, silly, sad, terrifying, provocative, and ultimately incredibly enlightening and affirming.... This book is a great resource for folks of all genders who'd like to learn how to behave better and how to expect better. Boundaries are a beautiful thing, but Bye Felipe is here to find the humor in people who have never met a boundary they couldn't cross."

—-Sara Benincasa, comedian and author of Real Artists Have Day Jobs and DC Trip