Darkstalker (Wings of Fire: Legends #1) (Prebound)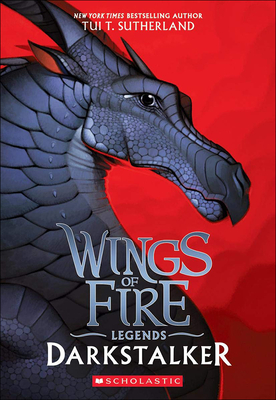 $20.40

Backordered - Availablilty Will be Delayed
(This book cannot be returned.)
Description
---
Three dragons. One unavoidable, unpredictable destiny. This is the beginning... of the end.

In the SeaWing kingdom, a young prince learns he is an animus -- capable of wonderful magic that comes with a terrible price.

In the mind of a NightWing dragonet, a thousand futures unfold -- and almost all of them, she knows, lead to disaster and destruction.

And under three full moons and the watchful eyes of his NightWing mother and IceWing father, the most powerful dragon Pyrhhia will ever know is clawing his way out of his egg. Darkstalker, the dragon who will change the world forever.

Long before the SandWing war, lifetimes before the Dragonet Prophecy... darkness is born.
About the Author
---
Tui T. Sutherland is the author of the New York Times and USA Today bestselling Wings of Fire series, the Menagerie trilogy, and the Pet Trouble series, as well as a contributing author to the bestselling Spirit Animals and Seekers series (as part of the Erin Hunter team). In 2009, she was a two-day champion on Jeopardy! She lives in Massachusetts with her wonderful husband, two adorable sons, and one very patient dog. To learn more about Tui's books, visit her online at www.tuibooks.com.