The Thief (Isaac Bell Adventures) (Prebound)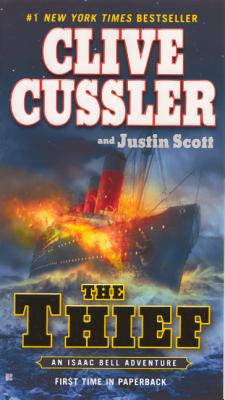 Description
---
An invention that could change the world...
A ruthless agent that could destroy it...
Only Isaac Bell can save it.
On the ocean liner Mauretania, two European scientists with a groundbreaking new invention are rescued from abduction by the Van Dorn Detective Agency's intrepid chief investigator, Isaac Bell. Unfortunately, they are not so lucky when one of the thugs attacks a second time. What are the scientists holding that is so precious? Something that will revolutionize business and world culture--and perhaps something more.
For war clouds are looming, and a ruthless espionage agent has spotted an opportunity to give the German Empire an edge in the coming conflict. It's up to Isaac Bell to figure out who he is, what he's up to, and stop him.
But Bell may already be too late.
About the Author
---
Clive Cussler is the author or coauthor of forty-nine previous books, including twenty-one Dirk Pitt (R) adventures, nine NUMA (R) Files adventures; eight Oregon Files books; four Isaac Bell thrillers; and three Fargo novels. His most recent "New York Times" bestsellers are "The Kingdom," "The Race," and "Devil's Gate." His nonfiction works include "Built""for Adventure: The Classic Automobiles of Clive Cussler and Dirk Pitt," plus "The Sea Hunters," and "The Sea Hunters II"; these describe the true adventures of the real NUMA(R), which, led by Cussler, searches for lost ships of historic significance. With his crew of volunteers, Cussler has discovered more than sixty ships, including the long-lost Confederate submarine "Hunley."

Justin Scott's twenty-four novels include "The Shipkiller "and "Normandie Triangle"; the Ben Abbott detective series; and five modern sea thrillers published under his pen name Paul Garrison.