Horseman: A Tale of Sleepy Hollow (Paperback)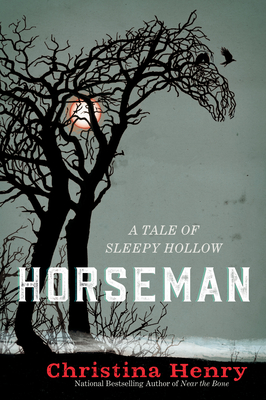 $17.00

In Stock at Our Warehouse - Usually Ships in 1-5 Days
Staff Reviews
---
Outstanding!!
This is a fantastic expansion of the beloved classic, that picks up where the other had left off.
Brom Bones & Katrina Van Tassel are grandparents now & raising their only grandchild, Bente, aka Ben.
Ben and his best friend, Sander are playing close to the forbidden woods when they stumble upon a most grisly sight. Rumors of the headless horseman spread through the village. Despite warnings, people continue to go missing and meet similar fates.
Ben believes he is "connected" to something in the woods as he has come in contact with each missing victim. As he investigates he finds shocking secrets his grandparents kept hidden.
Danger is afoot & rumors spread even more, if it's not the headless horseman than what is killing the citizens of Sleepy Hollow?
Ben aims to find out, do you?
Impressive storytelling, great characters & descriptive scenery makes this a fast page turner.
— From
Karen's Staff Picks
Description
---
In this atmospheric, terrifying novel that draws strongly from "The Legend of Sleepy Hollow," the author of Alice and The Girl in Red works her trademark magic, spinning an engaging and frightening new story from a classic tale.

Everyone in Sleepy Hollow knows about the Horseman, but no one really believes in him. Not even Ben Van Brunt's grandfather, Brom Bones, who was there when it was said the Horseman chased the upstart Crane out of town. Brom says that's just legend, the village gossips talking. 

More than thirty years after those storied events, the village is a quiet place. Fourteen-year-old Ben loves to play "Sleepy Hollow boys," reenacting the events Brom once lived through. But then Ben and a friend stumble across the headless body of a child in the woods near the village, and the discovery makes Ben question everything the adults in Sleepy Hollow have ever said. Could the Horseman be real after all? Or does something even more sinister stalk the woods?
About the Author
---
Christina Henry is a horror and dark fantasy author whose works include Near the Bone, The Ghost Tree, Looking Glass, The Girl in Red, The Mermaid, Lost Boy, Alice, Red Queen and the seven-book urban fantasy Black Wings series.

She enjoys running long distances, reading anything she can get her hands on and watching movies with samurai, zombies and/or subtitles in her spare time. She lives in Chicago with her husband and son.
Praise For…
---
"Fans of gothic horror will be eager to follow Ben into the woods."--Booklist

"With visceral visions of nightmares, creepy prose and a pace as fast as the rush of horses' hooves, Henry's take on Irving's classic story is a one-sitting read, a chilling romp into the forest that will remind readers that sometimes the scariest monster in the room is human nature ."--BookPage

Praise for Christina Henry's novels

"Satisfyingly upends the familiar tale of a clever girl, a dangerous wolf, and a brave savior, and folklore fans will enjoy this bloody near-future variation on a familiar theme."—Publishers Weekly

"An engrossing page-turner that will delight anyone who loves running through thought experiments about the apocalypse."—Paste 

"A riveting rewrite of Peter Pan."--The Wall Street Journal

"Multiple twists keep the reader guessing, and the fluid writing is enthralling....This is a fine addition to the shelves of any fan of children's classics and their modern subversions."--Publishers Weekly

"This wild, unrelenting tale, full to the brim with the freedom and violence of young boys who never want to grow up, will appeal to fans of dark fantasy."--Booklist

"A horrifying fantasy that will have you reexamining your love for this childhood favorite. Smooth, velvety prose blends well with the deliciously complex characters and intricate story line."--RT Book Reviews (top pick)

"It's full of magic and passion and courage, set against a convincing historical backdrop....Henry's spare, muscular prose is a delight. I loved this novel."--Louisa Morgan, author of A Secret History of Witches