Black Canary: Breaking Silence (DC Icons Series) (Hardcover)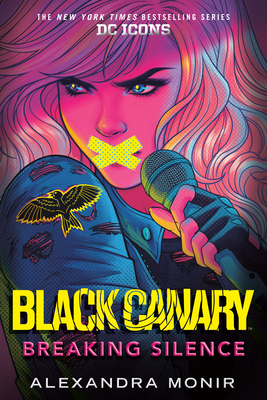 $18.99
Please contact us for more details
Description
---
THE NEW YORK TIMES BESTSELLING SERIES!
 
DC Icons continues with the first-ever YA origin story of superhero Black Canary, from the internationally bestselling author Alexandra Monir. In this thrilling novel, Dinah Lance's voice is her weapon. And in a near-future world where women have no rights, she won't hesitate to use everything she has--including her song--to fight back.

Dinah Lance was eight years old when she overheard the impossible: the sound of a girl singing. It was something she was never meant to hear--not in her lifetime and not in Gotham City, taken over by the vicious, patriarchal Court of Owls. The sinister organization rules Gotham City as a dictatorship and has stripped women of everything--their right to work, to make music, to learn, to be free.

Now seventeen, Dinah can't forget that haunting sound, and she's beginning to discover that her own voice is just as powerful. But singing is forbidden--a one-way route to a certain death sentence. Fighting to balance her father's desire to keep her safe, a blossoming romance with mysterious new student Oliver Queen, and her own need to help other women and girls rise up, Dinah wonders if her song will finally be heard. And will her voice be powerful enough to destroy the Court of Owls once and for all?
About the Author
---
Alexandra Monir is the Iranian-American author of the internationally bestselling novel The Final Six and five other books for young adults. Alexandra spent her teen years as a pop singer before publishing her debut novel, Timeless, and continues to write and record music. She lives in Los Angeles with her husband, toddler son, and one fluffy Shih Tzu. To learn more about Alexandra, visit her online at alexandramonir.com, and follow her on Twitter, Facebook, and Instagram.
Praise For…
---
Glamour.com, "16 Books for Everyone on Your List, According to Book Influencers"
Tor.com, "8 Amazing Novels about Superheroes"
PopSugar, "Books Everyone Will Be Talking About in December"
Refinery29, "17 Great YA Books to Gift"
Brit + Co, "13 Page Turners for the Book Lovers on Your List"
iO9, "December's New Sci-Fi & Fantasy Books Just Might Help You End 2020 on a Good Note"
YALSA 2022 Amazing Audiobooks for Young Adults Nominee

PRAISE FOR BLACK CANARY: BREAKING SILENCE
"Monir deftly balances familiarity for DC fans and accessibility for new readers, blending superhero origin with coming-of-age tale in an excellent book for fans of comics and dystopian fiction, as well as reluctant readers."—School Library Journal

"Dinah is a powerful protagonist, vibrating with a youthful rage and energy familiar to readers itching for revolution of any kind. Monir never shies away from her tale's unfortunately pertinent sociopolitical implications, putting a refreshing spin on the feminist dystopia. ... Sure to resonate in today's volatile climate."—Kirkus Reviews

"A compelling story of resistance, oppression, politics, feminism, rebellion, and revolution. A good story about finding your voice!" –Teen Librarian Toolbox/School Library Journal

"Using her voice as a weapon, Dinah Lance fights to overcome evil and empower girls and women the world over. [T]his prose origin story of superhero Black Canary will thrill you all the way through!"—MS. magazine

"Alexandra Monir gives us a thrilling new take on this superhero and leaves us feeling empowered and ready to scream with joy."—Danielle Paige, the New York Times best-selling author of the Dorothy Must Die series and Mera: Tidebreaker

"A fast-paced, twisty adventure with just enough callbacks to the DC world we know to make this new version enticing, you'll find Monir's tale hard to put down." –Culturess

"As thrilling as it is insightful...Truly a page-turner." –Geeks of Color

"If you are looking for a good read that has the depth and heart that makes superhero stories so enduring, pick up a copy of Black Canary: Breaking Silence." –The Nerd Daily
 
"The world-building in this book is phenomenal… this book is engaging, entertaining, and a great addition to the DC Icons line of books." –Between the Shelves 
 
"Thrilling and exhilarating, while also being truly heartfelt and extremely personal."  –FanFi Addict 

"An incredibly imaginative and reverential take on the decades of Black Canary canon,[...] with an earnest voice that feels incredibly unique to Monir." –ComicBook.com