The Bartender's Manifesto: How to Think, Drink, and Create Cocktails Like a Pro (Hardcover)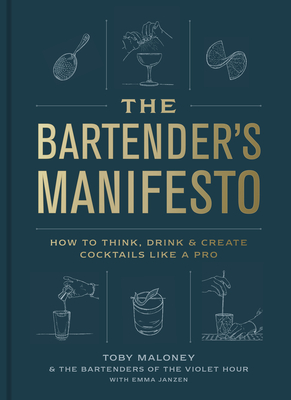 $32.50

In Stock at Our Warehouse - Usually Ships in 1-5 Days
Description
---
JAMES BEARD AWARD WINNER • Offering a foundational approach to cocktails, this manual from a James Beard Award-winning trailblazer will have you understanding and creating original drinks like a seasoned barkeep.

Take a raucous romp through the essential stages of fashioning cocktails and learn the hows and whys of bartending with acclaimed mixologist Toby Maloney and the team from The Violet Hour. When the pioneering cocktail bar opened in Chicago in 2007, it set a high standard with an innovative training program that teaches not just how to replicate classic cocktail recipes flawlessly, but how to embrace ingenuity, make smart decisions, and create original, inspired recipes from rote. Like cooks who can peer into their pantry and whip up dinner on the fly, no recipe needed, those who follow the methods in The Bartender's Manifesto will have the technical foundation and confidence to take their cocktail skills to the next level and fabricate a drink from any ingredients at hand.
 
First, dive deep into the mechanics of creating cocktails with the right balance, texture, aroma, and temperature. From there, Toby goes well beyond the fine-tuned mechanics of the craft, covering how to kickstart the creative process and bring professional-level complexity and sophistication to drinks. Additional essays offer insider intel on how to offer top-notch hospitality (at the bar and at home), find comfort in the everyday rituals of the craft, and spark surprise and curiosity in the process. With detailed insights into The Violet Hour's greatest recipes, expert tips from bar alumni, and helpful step-by-step illustrations and photographs, readers will come away with a deeper understanding of what makes the bar's training program so legendary, plus the superpower of creating imaginative cocktails that reflect their personal style and creativity.
About the Author
---
Toby Maloney is a James Beard Award-winning bartender with over twenty-five years of experience in the bar industry, from dive bars to Milk & Honey, Flatiron Lounge, and Pegu Club, as well as spots in Nashville, Minneapolis, and beyond. He is currently the head mixologist at The Violet Hour in Chicago, and partner and beverage director at Mother's Ruin in Chicago.

Emma Janzen is a journalist, editor, and photographer specializing in all things drinks and design. Currently the digital content editor for Imbibe magazine, she co-authored The Way of the Cocktail with Chicago bartender Julia Momosé, and received a James Beard Award nomination for her first book, Mezcal: The History, Craft & Cocktails of the World's Ultimate Artisanal Spirit.
Praise For…
---
"The Bartender's Manifesto is the best thing to happen to cocktail lovers since Dale DeGroff's The Craft of the Cocktail! Toby Maloney has worked behind the stick at some of the most respected cocktail bars in the United States and has dedicated his life to hospitality—in this comprehensive guide, he brilliantly explains the techniques used by the best bartenders to create award-winning drinks. This book should be required reading for both up-and-coming bartenders and home enthusiasts alike who want to know the secrets behind crafting impeccable libations."—Julie Reiner, Cofounder of Clover Club, Leyenda, and Social Hour Cocktails

"Like skilled alpinists, Maloney and Janzen lead the reader from the trailhead of mixology up a steep path to the base camp of bartending; pointing all along at the summit; where service and hospitality converge in history. Toby's The Violet Hour is a mountain few will have the fortitude to scale, but you can admire it faithfully from a distance thanks to the meticulously transcribed recipes and profane tales of those who have. This is the Everest of bartending books."—Jim Meehan, author of Meehan's Bartender Manual and The PDT Cocktail Book

"Toby Maloney is one of the OGs of the modern renaissance in bartending and drink mixing. Maloney is as crusty as he is creative, and it's enormously useful to finally have his approach to the craft on record, particularly in a form as entertaining as The Bartender's Manifesto."—David Wondrich, author of Imbibe and editor in chief of the Oxford Companion to Spirits & Cocktails

"If anyone is equipped to write a bartender's manifesto, it's Toby Maloney, who has worked at or launched some of the best cocktail bars of the century. There's no nitty-gritty he doesn't get down to here. He and co-author Janzen discuss everything from bartending philosophies to a cocktail's narrative arc; season the text with folksy maxims and tall tales; and tie in figures from Olmsted to Thompson. Topping it all may be the most specific drink-building instructions to grace any cocktail manual to date. If cocktails are art, as Maloney asserts, here's your canvas."—Robert Simonson, cocktail writer for The New York Times and author of A Proper Drink

"As Pegu Club's first head bartender, Toby was already a real leader and gifted visionary in his own right. During his tenure, we shared numerous technical conversations, and it is an utter joy to see them so intuitively developed here. Without question, this book reflects a real mastery of technique and understanding. Pure poetry to read."—Audrey Saunders, founder of the Pegu Club