Fair Play: A Game-Changing Solution for When You Have Too Much to Do (and More Life to Live) (Hardcover)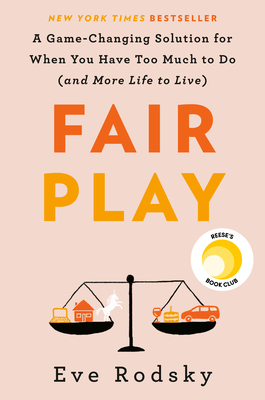 $26.00

In Stock at Our Warehouse - Usually Ships in 1-5 Days
Staff Reviews
---
Eve Rodsky specializes in organizational management, and she's applied those principles to making a system to create equity in household labor. That sentence sounds really dry, but the book isn't. She uses her own marriage as an example as she illustrates how the Fair Play system works. She walks us through the ways we may be contributing to the problem without realizing it (I personally am incredibly guilty of the frustrated "I've got it" approach), the types of husbands we might be dealing with and how best to approach each, and then (get this, ladies) a solution. The solution is a process, but it's a process meant to be easily individualized for each family. I am really excited to try it. I spend a lot of time venting with my girlfriends about the amount of household work we still take on as full-time working mothers, and I would love just that time back, not to mention the time I'm actually doing the household work.
— Anna Brown - Katy Budget Books
Description
---
A REESE'S BOOK CLUB PICK

"A hands-on, real talk guide for navigating the hot-button issues that so many families struggle with."--Reese Witherspoon

Tired, stressed, and in need of more help from your partner? Imagine running your household (and life!) in a new way...

It started with the Sh*t I Do List. Tired of being the "shefault" parent responsible for all aspects of her busy household, Eve Rodsky counted up all the unpaid, invisible work she was doing for her family -- and then sent that list to her husband, asking for things to change. His response was... underwhelming. Rodsky realized that simply identifying the issue of unequal labor on the home front wasn't enough: She needed a solution to this universal problem. Her sanity, identity, career, and marriage depended on it.

The result is Fair Play: a time- and anxiety-saving system that offers couples a completely new way to divvy up chores and responsibilities. Rodsky interviewed more than five hundred men and women from all walks of life to figure out what the invisible work in a family actually entails and how to get it all done efficiently. With four easy-to-follow rules, 100 household tasks, and a series of conversation starters for you and your partner, Fair Play helps you prioritize what's important to your family and who should take the lead on every chore from laundry to homework to dinner.

"Winning" this game means rebalancing your home life, reigniting your relationship with your significant other, and reclaiming your Unicorn Space -- as in, the time to develop the skills and passions that keep you interested and interesting. Stop drowning in to-dos and lose some of that invisible workload that's pulling you down. Are you ready to try Fair Play? Let's deal you in.
About the Author
---
Eve Rodsky received her BA from the University of Michigan, and her JD from Harvard Law School. After working in foundation management at J.P. Morgan, she founded the Philanthropy Advisory Group to advise families and charitable foundations on best practices. In her work with hundreds of families over a decade, she realized that her expertise in family mediation, strategy, and organizational management could be applied to a problem closer to home--a system for couples seeking balance, efficiency, and peace in their home. Rodsky was raised by a single mom in New York City and now lives in Los Angeles with her husband and their three children. Fair Play is her first book.
Praise For…
---
One of Forbes Best Books of 2020

"A hands-on strategy to divide tasks and achieve household harmony."—Real Simple

"[An] impressive debut...Couples searching for ways to better manage their families and achieve a balance of domestic work will benefit from Rodsky's actionable strategy."—Publishers Weekly

"Rodsky's system, which uses task cards divided between partners, is potentially revolutionary and [Fair Play] offers the right combination of venting and commiserating balanced by practical solutions and manageable approaches to tough conversations...poised to become a book-club favorite."—Booklist

"Watch out for Eve Rodsky. Reese Witherspoon's media company, Hello Sunshine, has annointed her as the Marie Kondo of relationships, and we think they might be on to something."—BookPage

"A must read for every busy woman out there."—PopSugar's Best Books of Fall 

"I'm so impressed with the Fair Play handbook. Not only did Eve break down every task that a couple is responsible for, but she managed to create a system where dividing those tasks is fun, insightful and gratifying. Her approach is filled with love, humor, wisdom and the idea that if we can work together and acknowledge each other's strengths and weaknesses, we can build better, stronger, and longer lasting relationships."—Reese Witherspoon 

"Fair Play is a game-changing guide to reclaiming more time in our lives by dividing domestic work in a deceptively simple new way. As Eve Rodsky explains, the key is for each partner to take on the entirety of each task on their to-do list—from conception to planning to execution—to avoid the mental load falling on women and the conflicts that typically arise in a relationship. The Fair Play system of dealing virtual 'cards' to share the work it takes to run a household is revolutionary and can help you succeed and truly thrive in all aspects of your life!"—Arianna Huffington, Founder & CEO, Thrive Global

"There are three 'people' in every busy relationship: Person A, Person B, and the system that governs them. When things feel overwhelming, most people point at themselves or their partner to explain it, but more often than not the system itself is the problem. This is brilliantly illustrated in Fair Play, where Eve Rodsky makes the existing system visible and provides a clear path to build a new one that enables readers to focus on what their family values most."—Greg McKeown, author of Essentialism

"If your family is struggling to achieve a happy division of household labor, read this book. Fair Play offers practical tools for maximizing peace and minimizing resentment—while freeing up all parties to pursue their best lives."—Laura Vanderkam, author of I Know How She Does It and Juliet's School of Possibilities

"Being a parent is hard; maintaining a happy marriage when children are young is even harder. Rodsky comes to the rescue for these rocky years! Fair Play is what every busy parent needs to shed resentment, move beyond blame, and reconnect with each other. By easing the home burdens and working collaboratively, parents will find the key to a happier marriage and more family joy."—Tovah Klein, PhD, director of the Barnard Center for Toddler Development and author of How Toddlers Thrive
 
"Eve Rodsky tackles the division of housework – a major source of conflict within many marriages—with a refreshingly clear, workable set of solutions that both partners can embrace."—Darby Saxbe, PhD, associate professor of psychology, University of Southern California
 
"Eve Rodsky has created a new language and fresh conversation around the topic of doing it all, stressing out and losing ourselves and relationships in the process. Every page of this book has a take-away, a new idea of approaching a topic that has plagued parents for decades and has needed a plan."—Sheryl Ziegler, MD, author of Mommy Burnout

"Fair Play gives us permission to create our own values that introduce equity into our households, creating an equitable shift in domestic workload, and setting examples for our children: that is the revolution. Imagine what could be different about you, your relationships and the world, if we collectively decided to play fair."—Alexis Jemal, JD, LCSW, assistant professor, Silberman School of Social Work, Hunter College 

"I just want to thank Eve Rodsky, brave woman, for taking on the mental load…of solving the mental load. Fair Play isn't just a great idea…it's going to change cultural norms so that women can have equity at home and equality in the workplace. Yes, better division of laundry can help solve the pay gap!"—Lauren Brody, author of The Fifth Trimester