The Last Witness (Badge Of Honor #11) (Paperback)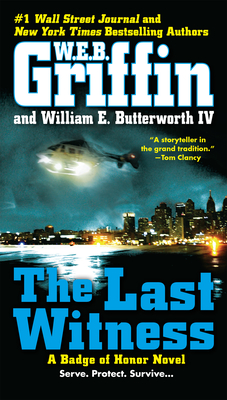 $11.69
Backordered - Availablilty Will be Delayed
Other Books in Series
This is book number 11 in the Badge Of Honor series.
Description
---
The last person Philadelphia homicide detective Matt Payne expected to hear from again was Texas Ranger Jim Byrth, with whom he'd broken a Mexican human trafficking ring. But Byrth isn't making a social call. He's found a connection between the Mexican drug cartels and the Russian mob.

Russian girls are being smuggled through the Caribbean to work in the U.S. as prostitutes, and some of them are dying or just disappearing. The trail leads right to Philadelphia, where teenage girls are being lured from foster homes, police sources are turning up dead, and the lone living witness—the daughter of a prominent family—has gone into hiding.

It's up to Matt Payne and his Texas Ranger partner to find her—and hope like hell they get to her first.…
About the Author
---
W.E.B. Griffin is the author of six bestselling series: The Corps, Brotherhood of War, Badge of Honor, Men at War, Honor Bound, and Presidential Agent. He has been invested into the orders of St. George of the U.S. Armor Association and St. Michael of the Army Aviation Association of America, and is a life member of the U.S. Special Operations Association; Gaston-Lee Post 5660, Veterans of Foreign Wars; the American Legion, China Post #1 in Exile; the Police Chiefs Association of Southeastern Pennsylvania, Southern New Jersey, and the State of Delaware; the National Rifle Association; the Office of Strategic Services (OSS) Society; and the Flat Earth Society (Pensacola, Florida, and Buenos Aires, Argentina, chapters). He is an honorary life member of the U.S. Army Otter-Caribou Association, the U.S. Army Special Forces Association, the U.S. Marine Raider Association, and the USMC Combat Correspondents Association. Griffin lives in Alabama and Argentina.

William E. Butterworth IV has been an editor and writer for more than twenty-five years, and has worked closely with his father for a decade on the editing and writing of the Griffin books. He is coauthor of the bestselling novels The Saboteurs, The Double Agents, Death and Honor, The Traffickers, The Honor of Spies, The Vigilantes, The Outlaws, Victory and Honor, Covert Warriors, The Spymasters, and Empire and Honor. He is a member of the Sons of the American Legion, China Post #1 in Exile, and of the Office of Strategic Services (OSS) Society, and is a life member of the National Rifle Association and the Texas Rifle Association. He lives in Texas.
Praise For…
---
"W.E.B. Griffin is the best chronicler of the U.S. military ever to put pen to paper—and rates among the best storytellers in any genre."—The Phoenix Gazette

Praise for the Badge of Honor novels, W.E.B. Griffin's electrifying epic series of a big-city police force…

"DAMN EFFECTIVE…He captivates you with characters the way few authors can."—Tom Clancy

"TOUGH, AUTHENTIC…POLICE DRAMA AT ITS BEST…Readers will feel as if they're part of the investigation, and the true-to-life characters will soon feel like old friends. Excellent reading."—Dale Brown

"COLORFUL…GRITTY…TENSE."—The Philadelphia Inquirer