The Sun Down Motel (Hardcover)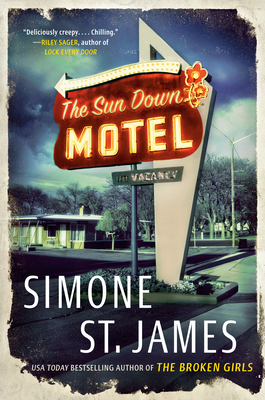 $26.00
Email or call for price.
Staff Reviews
---
This was one of the most engaging and entertaining reads that smoothly blends terror, suspense, horror, and the supernatural all centered around a strange motel. Undertones are dark and ominous, similar to the creepy feeling of the Bates Motel & "The Twilight Zone" but with a whole new category of weirdness.
The story is told to us by two striking viewpoints of Viv (past) & Carly (present), and the back-and-forth meshed together so evenly, that it was actually refreshing. While not giving away anything, this story has a little bit of everything: disappearances, murders, unsolved cold case crimes, small towns with really big secrets. Unusual sounds and scents increase the intensity as you fly through the pages in hopes that we, the reader, can guess the ending without being too scared.
My favorite line in the book is: "What could go wrong?" And in order for you to find out, you've got to grab yourself a copy of this book and dive in!!
— Karen B - Katy Budget Books
Description
---
AN INSTANT NEW YORK TIMES BESTSELLER

Something hasn't been right at the roadside Sun Down Motel for a very long time, and Carly Kirk is about to find out why in this chilling new novel from the New York Times bestselling and award-winning author of The Broken Girls.

Upstate New York, 1982. Viv Delaney wants to move to New York City, and to help pay for it she takes a job as the night clerk at the Sun Down Motel in Fell, New York. But something isn't right at the motel, something haunting and scary.

Upstate New York, 2017. Carly Kirk has never been able to let go of the story of her aunt Viv, who mysteriously disappeared from the Sun Down before she was born. She decides to move to Fell and visit the motel, where she quickly learns that nothing has changed since 1982. And she soon finds herself ensnared in the same mysteries that claimed her aunt.
About the Author
---
Simone St. James is the New York Times bestselling and award-winning author of The Broken Girls, Lost Among the Living, and The Haunting of Maddy Clare. She wrote her first ghost story, about a haunted library, when she was in high school, and spent twenty years behind the scenes in the television business before leaving to write full-time.
Praise For…
---
Praise for The Sun Down Motel

"Deliciously creepy. A chilling blend of mystery and ghost story that will thrill fans of both."—Riley Sager, New York Times bestselling author of Lock Every Door

"Simone St. James knows that true terror, as she effectively illustrates in The Sun Down Motel, goes beyond things that go bump in the night....St. James deftly melds an engrossing mystery with a tense supernatural thriller....keeps the tension high with myriad surprising twists."—Associated Press

"There are very few novels that leave me feeling genuinely spooked....Simone St. James's The Sun Down Motel is very much one of those books, taking twists and turns that are equal parts compelling and creepy."—PopSugar
 
"This creepy supernatural thriller will send shivers down your spine."—GoodHousekeeping.com
 
"[A] truly nightmarish trip back and forth in time and into the supernatural...guaranteed to keep readers rapt...What a story!"—Booklist (starred review)
 
"This novel is a creepy delight."—The New York Post
 
"When are we too old for ghost stories? As long as they are as taut and twisty as Simone St. James' latest novel, make that never....Readers of this thoroughly entertaining thriller won't be disappointed."—Minneapolis Star Tribune
 
"Spooky, unsettling, and brilliantly written, The Sun Down Motel is mesmerizing from the first page. A breathlessly suspenseful supernatural mystery that will hook you early, and never let go."—Jennifer Hillier, author of Jar of Hearts, ITW Thriller Award winner for Best Novel