Kept (The Enforcers #3) (Paperback)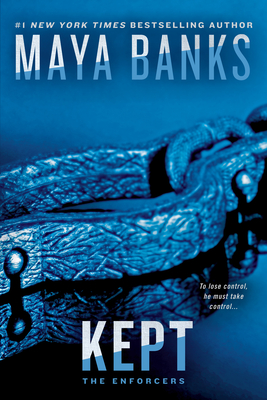 $19.89
Please contact us for more details
Other Books in Series
This is book number 3 in the The Enforcers series.
Description
---
From the author of Mastered and Dominated comes the third of the Enforcers novels. Kept is the searing story of a woman who finds sanctuary in surrender...
 
He can't change who he is.
 
A horrific childhood has made Silas the man he is today: dangerous, distrustful and demanding. He's lived in self-imposed solitude, convinced that no woman could ever accept his need for absolute control—in business and pleasure. That is, until a young violinist walks into one of his buildings and into his life.
 
She can't change what she wants.
 
Hayley has been struggling to fulfill her father's dying wish: for her to attend a prestigious music school in New York City. But even working multiple jobs, she can't afford the tiniest of apartments. Seeing her hopeless and near tears, Silas vows to help and protect her, no matter the cost to himself. But when Hayley meets his every demand with unwavering acceptance and love, he is overwhelmed by her goodness and gentle spirit. He knows that the dark stain on his soul can never be erased—and rather than risk destroying the most beautiful person he's ever experienced, he'll have to do the hardest thing he's ever had to do. Let her go. But he's totally unprepared for the lengths to which Hayley will go to fight for his love and for a future brighter than the sun...
About the Author
---
Maya Banks is the #1 USA Today and #1 New York Times bestselling author of the Surrender trilogy, the Breathless trilogy, the Sweet series, and the Colters' Legacy novels.
 
She lives in the South with her husband and three children and other assorted babies, such as her two Bengal kitties and a calico who's been with her as long as her youngest child. She's an avid reader of romance and loves to dish books with her fans and anyone else who'll listen!
Praise For…
---
Praise for Maya Banks and her novels
 
"Takes readers into the black depths of anguish."—Linda Howard, New York Times bestselling author
 
"Incredibly awesome."—Jaci Burton, New York Times bestselling author
 
"Maya Banks…really dragged me through the gamut of emotions. From…'Is it hot in here?' to 'Oh my GOD'…I'm ready for the next ride now!"—USA Today
 
"For those who like it naughty, dirty, and do-me-on-the-desk HAWT!"—Examiner.com
 
"Hot enough to make even the coolest reader sweat!"—Fresh Fiction