Sixteen Scandals (Hardcover)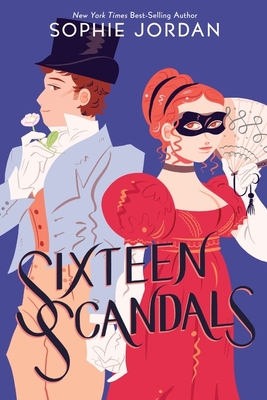 $17.99

In Stock at Our Warehouse - Usually Ships in 1-5 Days
Staff Reviews
---
I always love a Sophie Jordan book, and Sixteen Scandals is no exception. This YA historical is so much fun, and I read it in a single sitting.
Primrose Ainsworth wakes on her sixteenth birthday expecting to be introduced to society, but instead finds her mother had decided it's too much trouble to have two daughters seeking matches at once. So, she decides to sneak off to enjoy one night of freedom before she has to wait for her mother to orchestrate her marriage at some indeterminate time. Shenanigans ensue.
The heroine in this book is fabulous. She does not want to fit into society's box, but she's not so forward-thinking that it's unbelievable. She's smart and self-deprecating and funny, and she attracts the attention of a very handsome stranger. Said handsome stranger is a fantastic love interest. He challenges her but is also willing to be challenged. He lets her set her own rules, but tries to protect her anyway. There's all kinds of adventure along the way, and it's such a fun read. It's got less steam than most of Sophie's books, so it's definitely appropriate for all young adult readers.
— Anna B - Katy Budget Books
Description
---
In this irreverent regency romp by New York Times best-selling author Sophie Jordan, newly minted sixteen-year-old Primrose Ainsworth finds herself on a wayward birthday adventure through London with a mysterious hero—perfect for fans of My Lady Jane.
 

The youngest of four daughters, Primrose Ainsworth is used to getting lost in the shuffle. But when her parents decide to delay her debut into English society, Prim hatches a plan to go rogue on the night of her sixteenth birthday.

Donning a mask, Prim escapes to the infamous Vauxhall Gardens for one wild night. When her cover is nearly blown, a mysterious stranger intercedes, and Prim finds an unexpected partner in mischief . . . and romance. But when it's revealed her new ally isn't who he says he is, her one night of fun may last past dawn.

In this frothy regency romp perfect for fans of Austen-esque flirtation and Shakespearean hijinks, sometimes a little scandal can be a good thing.
About the Author
---
Sophie Jordan grew up in the Texas hill country where she wove fantasies of dragons, warriors, and princesses. A former high school English teacher, she's a New York Times, USA Today, and international best-selling author of over thirty novels, including The Me I Meant to Be and Kissing Lessons. She now lives in Houston with her family. When she's not writing, she spends her time overloading on caffeine (lattes preferred), talking plotlines with anyone who will listen (including her kids), and cramming her DVR with true-crime and reality TV shows.
sophiejordan.net
Twitter: @SoVerySophie
Instagram: @sosophiejordan
Praise For…
---
"It is the perfect entree for any young person who just binge-watched Bridgerton or every Austen miniseries and finds themselves wanting more." –NPR "Exciting chases and near misses abound as Prim is dramatically rescued from several scrapes by a mysterious and exceedingly handsome stranger. Prim's feminist spirit and determination to rise above her station will resonate with modern readers who feel trapped in difficult family situations. 'Cinderella' meets Pride and Prejudice, and the result is a delight." –Kirkus "This romp through Regency London is a whimsical and turbulent roller-coaster of mishaps and misfortunes....This is a must-purchase for any YA collection where historical fiction and romance is popular. Hand this to teens who binge-watched Bridgerton and need more from the ton." –School Library Journal  "Jordan (Kissing Lessons) neatly evokes the familiar beats of a Regency romance and credibly establishes the setting. The charming Pride and Prejudice–reminiscent romance effectively renders the privilege and societal power dynamics at play and imbues forward-thinking, dynamic heroine Prim with refreshing agency. "–Publishers Weekly    —