Bayou Born (The Foundling Series) (Paperback)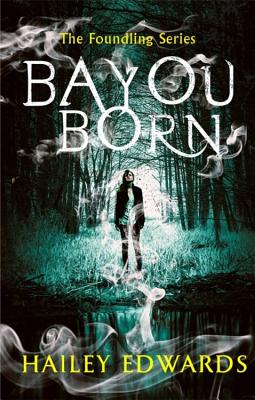 $13.99
In Stock at Our Warehouse - Usually Ships in 1-5 Days
Description
---
"Edwards [creates] amazing fantasy worlds that the reader becomes completely engrossed in." Goodreads

Her beginning may be our end . . . Deep in the humid Mississippi bayou, a half-wild child is dragged from the murky waters. She has no memories, no family and is covered in mysterious markings. Adopted by the policeman who rescued her, Luce Boudreau follows him onto the force, determined to prove herself in the eyes of those who are still suspicious.
However, there's more of a battle ahead than Luce could possibly imagine. She may be an orphan without a past, but no one - including Luce herself - could ever be prepared for the truth of her dark, powerful destiny . . "Well-plotted fantasy continues to engage the reader with its intriguing characters, heart-pounding action, suspenseful intrigue and subtle romance." RT Book Reviews"The world building is fresh ... The characters are well-drawn and easy to root for. And the romance really hits the spot." Red Hot Books
About the Author
---
Every life is like a story.
Hailey's beginning was a good one. She was raised in a small town in Alabama with two siblings. Her parents have been married for 32 years, proof that humans really can mate for life.
Her middle is pretty good, too. She met her husband on January 11, 1999. Their first date was on February 5, 1999. He proposed to her nine days later on Valentine's Day. They married two months after that. He says it was fate. She's just happy he found her.
Hailey's end is unwritten, but she has the love of her family and the support of her friends.
That is the best happily ever after she can imagine.
She loves to hear from readers. Visit her website to find out how to say hello and for all the info on upcoming books: http://haileyedwards.net/
Praise For…
---
Be prepared for a fast-moving journey filled with the unexpected.—RT Book Reviews

Edwards [creates] amazing fantasy worlds that the reader becomes completely engrossed in.—Goodreads

Edwards has this way of writing that makes you feel like the narrator is talking to you and that you're old friends.—Goodreads

Edwards is a strong voice in the Adult Paranormal Romance genre.—Goodreads

Well-plotted fantasy continues to engage the reader with its intriguing characters, heart-pounding action, suspenseful intrigue and subtle romance.—RT Book Reviews

Hailey has taken several elements of paranormal storytelling and created a whole new dimension for her characters to thrive in their muddied, twisted merriment. Some things aren't as they seem, ensnaring readers to follow along.—Goodreads

The author spins an action-packed story of intrigue and betrayal, with an endearing romance at it's heart. I adore a good marriage of convenience tale that ultimately turns into much more - and this one is exceptional.—RT Magazine

The author weaves an action-packed story of intrigue and betrayal. The dialogue is strong, the storyline compelling and the prose artful.—RT Book Reviews

The world building is fresh ... The characters are well-drawn and easy to root for. And the romance really hits the spot.—Red Hot Books

There is enough mystery, action, and adventure to keep even the most reluctant reader engaged.—Goodreads

Hailey Edwards has exceeded all expectations.—Goodreads

This paranormal fantasy/mystery/romance presents a compelling plot and likable characters, promising more to follow after an addictive beginning to this new series. Perfect for fans of Darynda Jones and Patricia Briggs—Terri Lent, Patrick Henry High Sch., Ashland, VA, Library Journal


"One aspect of her writing I enjoy is her ability to take the mundane and with a few changes, turn it into something unique and unexpected. She builds dynamic character bases, using common mythology but takes it one step further using previously unseen species or imbibing currently known species with skills and know how that offers readers something new in the paranormal world.—Smexybooks.com